10.01.2019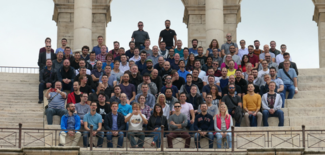 At a glance
-    12 new customers signed for AMOS
-    AMOS Customer Conference: one of the year's highlights
-    Outlook 2019: Extensive company growth envisaged
Looking back to 2018
In 2018, Swiss-AS proudly welcomed 12 new customers to the AMOS Community, amongst them Ural Airlines, Kuwait Airways, LIAT, Bamboo Airways, Lufthansa German Airlines and Air Tahiti Nui. Though the new customers have different backgrounds, ranging from start-ups, CAMO organizations up to MRO providers and established airlines, they have all chosen AMOS as their perfect fit. With the offer of four different AMOS Editions, airlines, airline groups, CAMO organisations and MRO providers of all sizes can individually select the AMOS Edition that best supports their business scope. With Lufthansa German Airlines joining the AMOS Community, Swiss-AS now equips all carriers in the Lufthansa Group with AMOS.
One highlight of the year was for sure the AMOS Customer Conference that took place in October in the beautiful city of Lucerne, Switzerland. Over 250 delegates attended the conference with customers and partners representing 92 companies from all over the world. The goal of the event was to facilitate networking and exchange of experience within the AMOS Community as well as to inform attendees about the latest AMOS developments and the enriched service portfolio.
You can gain an impression of this event with our official conference movie: https://www.youtube.com/watch?v=3bVmZkZAamg&t=2s
For the first time, Swiss-AS offered a series of AMOS Adoption Seminars to the Customer Community.
It is our strategic objective to continuously support an increase in the adoption of AMOS in the Community and to drive digitalization initiatives within the AMOS customer base. We invited customers to learn first-hand how to optimize their AMOS adoption by applying the latest industry-leading features available. Topics included e-Signature, AMOS Competence Centre, AMOSmro Base Maintenance Planning & Execution or Staff Capacity Planning (Line & Base Maintenance).
The high interest of AMOS customers in these seminars confirmed once again the increasing commitment of the AMOS Community and their eagerness to stay updated with the latest benefits of AMOS. During the eight seminars hosted in Basel, Swiss-AS welcomed 400 participants from 70 different customers traveling from 35 different countries.
Tremendous company growth envisaged for 2019
The New Year brings with it another reason to celebrate: AMOS turns 30 in autumn 2019. What started in 1989, as an internal IT project at Crossair, has now grown to a market leading position with 175+ customers. This success is not merely the achievement of Swiss-AS. Where we are today is thanks to the loyal AMOS Community!
As already announced, Swiss-AS is currently developing AMOScentral, which has the potential to revolutionize the MRO software market. The launch of this development has attracted the attention of AMOS customers, potential AMOS customers and the industry in general. In addition, the Lufthansa Group airlines have defined AMOS as their collective standard. AMOScentral is the enabler of this complex cooperation between the different airlines within the Lufthansa Group.
In order to manage all these challenges, and still maintain high support levels for existing customers, Swiss-AS will dedicate investment in manpower and organizational adjustments. In 2019, our workforce will increase by around 30%, affecting most Swiss-AS departments. With this tremendous growth – unprecedented in the history of Swiss-AS - we invest in the future of AMOS.
Thank you
Swiss-AS would like to take this opportunity to thank our active customer base, partners and supporters all over the world for the excellent cooperation in 2018 and we look forward to continuing the teamwork with you again throughout 2019.
About Swiss AviationSoftware and AMOS
AMOS is a comprehensive, fully-integrated MRO software solution being developed and distributed by Swiss AviationSoftware. Swiss-AS, a 100% subsidiary of Swiss International Air Lines, has 175+ customers worldwide and belongs to the industry-leading MRO software providers. Our loyal customer base includes pure operators of all sizes, major low-cost, regional and flag carriers, large airline groups and MRO providers. In the Americas and Asia, AMOS is distributed through a partnership with Lufthansa Systems. For more information, please contact us via marketing@swiss-as.com.