02.05.2019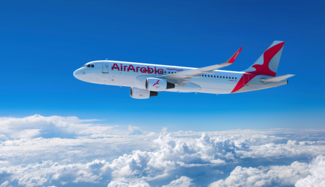 At a glance
AMOSmobile selected to equip line and base maintenance technicians
AOS with PostgreSQL DBMS chosen for optimal AMOS operation
Multi Entity functions to support multi- base strategy
AMOS supporting Air Arabia's digital strategy and fleet increase
Air Arabia and Swiss-AS signing on a long-term partnership
Swiss-AS and Air Arabia are proud to mutually announce that Air Arabia has chosen AMOS as their new MRO software to address the demands of a dynamic, fast-changing industry. In a ceremony held at the headquarters of Air Arabia in Sharjah, the CEOs of Swiss-AS and Air Arabia proudly signed the contracts, paving the way to implement AMOS and marking the beginning of a long-term partnership.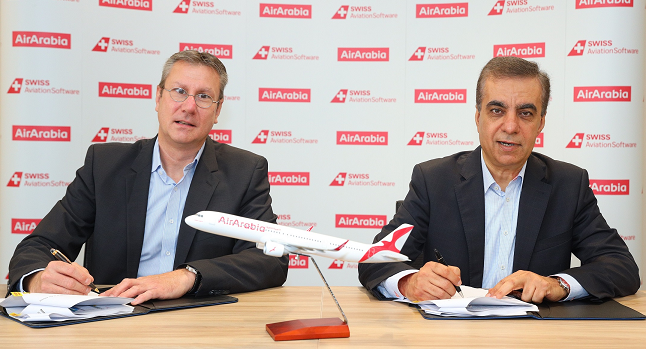 As the low cost carrier is performing light and heavy maintenance in-house, Air Arabia  have opted for the AMOS Airline-MRO Edition, which provides all the functions needed to cover the entire spectrum of the carrier's maintenance operations efficiently.
Air Arabia envisages a significant fleet increase with the intention to operate 100+ aircraft by 2025. With AMOS, the Middle Eastern carrier has taken a sustainable and future-proof decision that will not only support the fleet growth but also the digital transformation process towards paperless operation. Besides AMOSdesktop, the budget carrier will implement AMOSmobile to equip its maintenance staff in the hangar and on the apron with a fully integrated and easy to use software tool.
AMOS Financial Multi Entity and AOS
Supporting Air Arabia's multi-base strategy, AMOS Financial Multi Entity capabilities will help to consolidate all activities across the group in one system. This feature enables the independent financial management of each entity, while taking advantage of centralised processes over the whole corporate organisation.
AMOS will be running on the open-source database PostgreSQL and the airline has opted for the AMOS Operation Service (AOS), a popular service offered by Swiss-AS which ensures the optimal AMOS application server and database management.
"By equipping Air Arabia with AMOS and AMOSmobile we are confident to pave the way into the digital future of the airline and to add significant synergies to the maintenance process landscape. We are proud to welcome Air Arabia to the AMOS Community," states Ronald Schaeuffele, CEO of Swiss-AS.
"At Air Arabia we always look for innovative solutions to bring further efficiency to our operations. Selecting AMOS as our new MRO software across the group reflects the importance we place in adopting latest technologies to support our fleet growth requirements," said Adel Al Ali, Group Chief Executive Officer of Air Arabia.
About Air Arabia
Air Arabia is a budget airline located at Sharjah International Airport. With its fleet of 53 Airbus A320 and one A321, the carrier serves 155+ destinations spread across the Middle East, North Africa, Asia and Europe.
Air Arabia operates a multi-base business model with its hubs in the UAE, Morocco and Egypt.
About Swiss AviationSoftware and AMOS
AMOS is a comprehensive, fully-integrated MRO software solution being developed and distributed by Swiss AviationSoftware. Swiss-AS, a 100% subsidiary of Swiss International Air Lines, has more than 170 customers worldwide and belongs to the industry-leading MRO software providers. Our loyal customer base includes pure operators of all sizes, major low-cost, regional and flag carriers, large airline groups and MRO providers. In the Americas and in Asia, AMOS is distributed through a partnership with Lufthansa Systems. For more information, please contact us via marketing@swiss-as.com