26.04.2021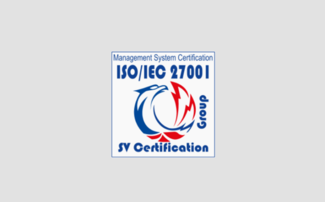 At a glance 
ISO/IEC 27001 is an international standard on how to manage information security, providing requirements for an - - Information Security Management System (ISMS).
An ISMS ensure a holistic approach to information security and retaining the certification requires a continuous improvement of the ISMS and regular independent audits.
ISO/IEC 27001 – a big win for Swiss-AS and its customers
Swiss-AS is proud to announce its successful ISO/IEC 27001:2013 certification regarding Information Security Management System (ISMS). Information security is of major importance for Swiss-AS with the certification being a strong demonstration of our commitment to provide our customers with high-quality services through an approach that guarantees maximum security.
The benefits of the certification are of direct and indirect nature:
Security becomes a "center of excellence":

- The certification is the formal confirmation that information security is a top priority for Swiss-AS and will therefore reinforce internal and external parties' confidence in Swiss-AS.
- The ISO/IEC 27001 certification brings additional guarantees regarding the security of our services and the protection of customer data hosted by Swiss-AS.

Bolster customer trust and strengthen Swiss-AS market position:

- Having a certified ISMS will fortify the trust of both customers and pre-sales leads in Swiss-AS.
"Information security has been very high on Swiss-AS' agenda for the last few years. Through the ISO 27001 certification we have now received an independent confirmation that we have done our homework and implemented a robust Information Security Management System to protect our information, while at the same time making the information assets entrusted to us fully secure. Information Security, Data Protection and Cyber Security becomes increasingly critical for a company's success and we will further invest to provide our customers products and digital services that meet high information security standards," states Fabiano Faccoli, Chief Operating Officer of Swiss-AS.
ISO/IEC 27001 is an international standard developed and published by the International Organization for Standardization (ISO). It is the most widely used and recognised standard for information security management and sets out requirements for the establishment, implementation, operation, monitoring, review, maintenance and continuous improvement of the ISMS.
The ISO/IEC 27001 certification was issued to Swiss-AS after the successful completion of a formal audit process performed by SV Certification Group, an independent and accredited certification body. The certification is evidence that Swiss-AS complies with rigorous international standards in ensuring the confidentiality, integrity and availability of customer data, internal information, processes and systems.
Swiss-AS acknowledges with this certification that information security is a topic that requires continuous attention. Our company will continue to be audited regularly by an independent and accredited certification body to ensure our ISMS remains compliant with ISO/IEC 27001 standards and requirements. The scope of the certification covers the entire Swiss-AS company, which means the headquarters in Basel as well as the two branch offices in Miami and Singapore including all departments (sales, hosting, finance, support, etc).
About Swiss AviationSoftware and AMOS
AMOS is a comprehensive, fully integrated MRO software solution being developed and supported by Swiss AviationSoftware. Swiss-AS, a 100% subsidiary of Swiss International Air Lines, has more than 190 customers worldwide and belongs to the industry-leading MRO software providers. Our loyal customer base includes pure operators of all sizes, major low-cost, regional and flag carriers, large airline groups and MRO providers. In the Americas and in Asia, AMOS is distributed through a partnership with Lufthansa Systems.