08.01.2019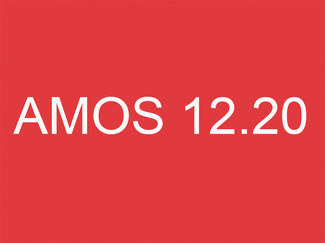 Last month Swiss-AS published its latest AMOS release 12.20. We would like to provide you with a short summary of this release's highlights. To watch the AMOS teaser which introduces the new release content more deeply to our customer community, log in to our Customer Portal.
Security in AMOS 12.20: Swiss-AS has implemented more security for parallel sessions and various security features have been added. New features allow a fine grained control of the usage of AMOS and to limit a login to a given list of IP addresses or to prevent that the users share a login. AMOS detects if a login is used from multiple computers at the same time and can blocks this. We also introduced a content filter for the AMOS build in web-drive to prevent the uploading of malicious files and worked on many other small improvements for the security topic.  
AMOSmobile has significantly improved with a better usability, workflows definition, the possibility to release workpackages and defer work. Various documents such as NDT, EMM are visible and can be searched in AMOSmobile 12.20. A substantial amount of new core applications has been created in 12.20 – AMOSmobile counts now over 70 apps!
Engineering: the effectivity framework has been enhanced and harmonised with a multiple effectivities definition and copy function. Additionally, AMOS 12.20 now allows to assign ratings to highest assemblies. The component inherits the highest assembly rating, if assigned, otherwise the aircraft rating.
Material Management: the Advanced Reorder Proposal module has been restructured with many extensions. The development of advanced inventory management concepts and data visualisation will help our customers to improve the performance of their supply chain and to further save costs.
Planning: AMOS 12.20 introduces two new programs: Line Maintenance Manager and Line Maintenance Configuration under the production application. Besides, the Line Maintenance Manager module will give a full overview of all aircraft turnarounds. By implementing rules, users will have the possibility to create workpackages for the ground time between the flights taking in consideration the flight schedule and to automatically create and assign maintenance events to workpackages. Additionally, maintenance staff can be also assigned efficiently to an aircraft that needs maintenance located on the ramp and report back once the work is performed. Finally, the priority of all qualifications has been improved along the whole planning module.
Publications: many improvements were implemented for the S1000D format such as display of S1000D References grouped per Type, display of S1000D sub-levels (procedures, steps and internal references), identification of S1000D References in use, creation of Jobcards (only for AMM type), highlight of added, changed or deleted References between two revisions, update of WT or events that have links to an old revision.