AMOSmobile is a touch-optimised and fully-integrated add-on to AMOS. The first module of the mobile suite, AMOSmobile/EXEC, is designed with the ultimate goal to enable the paperless execution of all line & base maintenance activities and eliminating tons of paper created in the process of documenting all maintenance steps.
AMOSmobile/EXEC is a major step towards "paperless maintenance" and we are happy to support all our customers that are ready to document and e-sign their maintenance activities directly at the aircraft.
While AMOSmobile/EXEC offers a full-scope functional platform for line and base mechanics, the individual apps have been designed to allow each customer to define the best-fitting implementation scenario based on the customer's desired AMOSmobile scope. From a simple quick-win implementation of AMOSmobile/EXEC bringing AMOS "live" data to the mechanics' finger-tips up to a full paperless maintenance process, everything is possible.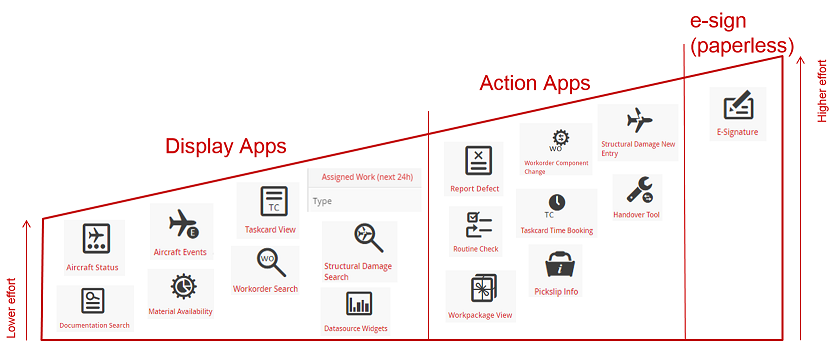 Technology
Advanced web application based on modern standards
HTML5 + CSS3 + JavaScript (Vaadin)
Runs in web browser
Minimum requirements and dependencies
Powered by the AMOS server
Secured by SSL
Optimised for usage in slow networks
Runs on any computer / tablet / device
Benefits of AMOSmobile/EXEC at a Glance
Full integration with AMOS (no interfaces necessary)
Time-saving due to raising & recording of all maintenance activities directly at the aircraft
Intuitive and easy-to-use: no formal classroom training needed (on-the-job training sufficient)
Faster access and transmission of data
All information is available real-time wherever you are
Process-driven menu guidance related to mechanics' tasks
Scalable scope of use from quick-wins up to paperless maintenance
Interactive: manuals, diagrams, 3D graphics, videos
Context sensitive: search, links, details, etc.
Customisable dashboards
Advanced technology despite lean technical requirements
Device agnostic
Saving paper
Motivating for staff: AMOSmobile/EXEC is fun to work with!