The Swiss-AS eTLB will bring Swiss-AS to the Flight Deck by digitalising the paper Techlog. It will offer a paperless aircraft technical logbook application tightly integrated with AMOS.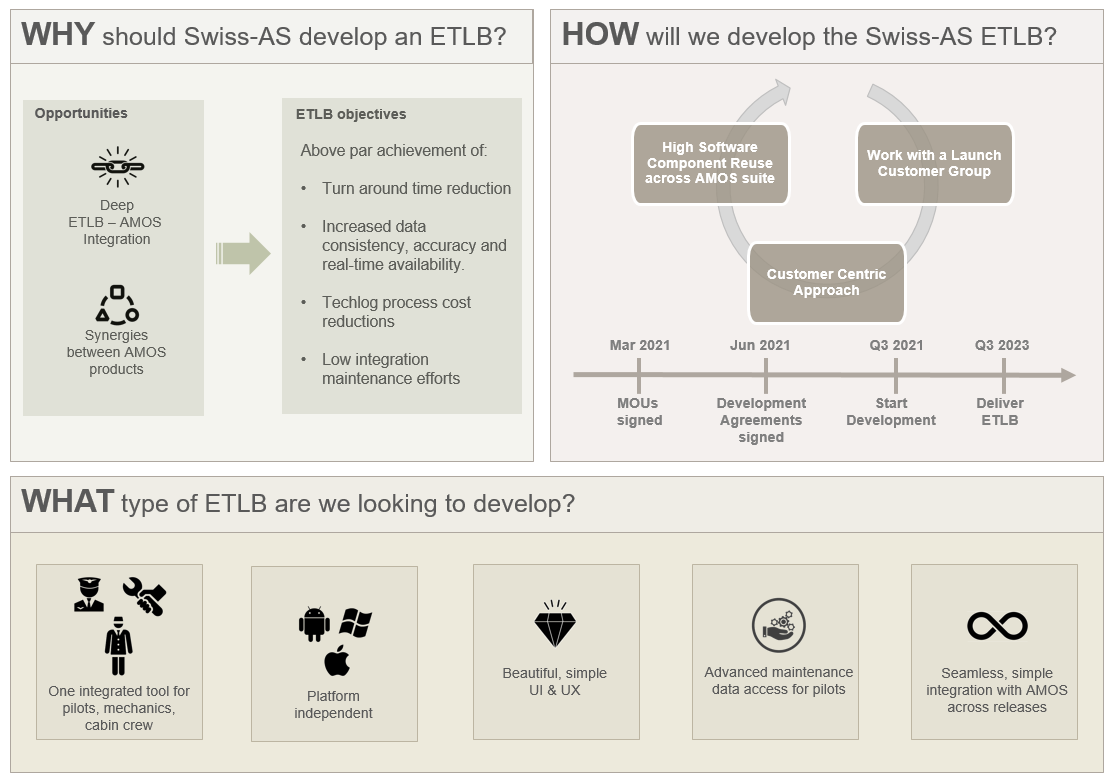 SWISS-AS eTLB is a Type-A EFB application. By containing the scope of our application to documents retrievals, storage and simple feedback of complete or not complete business processes, we provide a solution that will not require a heavy and expensive implementation and continuous certification process, like in a Type-B or C EFB application solution.
User types and main functions: 
PIC (Pilot in Command)

Main function: Reporting defects in an intuitive way, selecting them from a pre-existing list and being able to add information that is operation relevant and goes beyond a defect report. 

Cabin

Main function: Being able to report a cabin defect in a simple way, if needed a highlighted picture can be added in order to enhance the Flight Crew – Cabin Crew communication. 

Maintenance

Main function: Being able to report defects, close defects and perform line maintenance related tasks, such as daily checks, from its own working environment.

Admin

Main function: The full features are available to the Admin log-in privileges. This way the 3 roles PIC, CABIN and maintenance are assumed, giving the ADMIN full freedom to complete any business process inside the eTLB.

Authorities 

Main function: Like a paper TechLog, the Authorities need to consult and access the continuous airworthiness of the aircraft associated with the specific eTLB. They can consult every page like in an Admin mode but are not able to edit any detail. 
The Swiss-AS eTLB is currently under development. With the AMOS eTLB, we will soon offer you a best in class mobile experience, which is apealing, integrated, intuitive, and innovative!