10.02.2020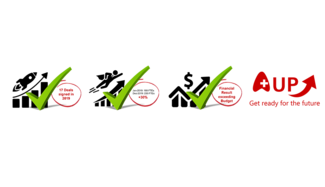 At a glance
Exceptional number of new customers signing on AMOS
Almost 60 new employees joined the Swiss-AS team
Office space will be doubled in early 2020
Lufthansa German Airlines and Lufthansa Cargo implementing AMOS
Evolutionary architectural upgrade of AMOS
Record-breaking number of new AMOS customers
In 2019, business has once again been thriving for Swiss-AS, the result being an impressive 17 new customers having joined the AMOS community. Amongst them, renowned carriers such as Air Arabia, Gulf Air, Gulf Helicopters, Air Vistara and HK Express. Swiss-AS was also able to further extend its footprint among the pure MRO providers by closing deals with HAECO, TAP M&E, Sapura Technic and Nayak LM. With all these new customers, Swiss-AS is asserting its position as one of the leading MRO software suppliers worldwide.
Staff growth continues
This continued success allows Swiss-AS to press ahead with its expansion path and further invest in the future of AMOS. As part of this investment, Swiss-AS welcomed close to 60 new employees (around 30% of its overall manpower) in the company, thereby reinforcing every team and department. The company will continue to substantially increase its workforce in 2020.
To accommodate this growing number of employees, Swiss-AS will double its office space at its headquarters in Allschwil / Switzerland. The extensive renovation work is scheduled to be completed in Q2 2020 and will offer Swiss-AS' staff modern workplaces and state-of-the-art facilities including a large lounge area, activity-based creative zones and relaxation space.
Lufthansa joined the AMOS community
In 2019, Swiss-AS were able to announce that tier-one Lufthansa German Airlines -  operating close to 300 aircraft - and Lufthansa Cargo had signed for AMOS. This now brings all members of the Lufthansa Group together using AMOS. Both carriers will implement AMOS including AMOSmobile for their line maintenance and CAMO activities. With a strong focus on driving innovation within the group, we are confident that this complex digital transformation project will be successfully completed and will have its positive effect on the whole group.
Looking into the future, the close cooperation of the members of the Lufthansa Group will be further supported by AMOScentral, a cloud-based message broker that enables the exchange and synchronisation of data between AMOS instances while nevertheless allowing each group member to keep control over their individual AMOS environments.
Swiss-AS continues to work on the development of AMOScentral and the first use cases will be field-tested by the end of 2020 in close dialogue with AMOS customers. Upon completion of the field tests, AMOScentral will be made available to the AMOS community allowing them to collaborate seamlessly using this powerful communication platform. The potential of having the ability to share data such as stock, or engineering data cannot be underestimated.
AMOSup / Architecture upgrade
Swiss-AS continues to constantly review and assess AMOS and all of its individual components, and this year Swiss-AS will turn its attention to the architecture itself.
To ensure that addresses future information security requirements, the investment in the architecture will ensure that whilst our customers have a software capable of handling the ever-growing complexity required, the foundation will be upgraded to combine a strong JAVA back-end architecture with state-of-the art future-proof front-end technology. This will also ensure that our customers will continue to benefit from the usability and intuitive functionality that they appreciate. Additional benefits that the customer can expect from this project are better integration possibilities into the existing IT landscape, more possibilities for the automation of business processes and for our cloud-hosted customers improved network latency.  
This initiative, combined with a modularisation of the server itself, will support Swiss-AS' ambition to equip the large AMOS community with the best possible platform for their digital TechOPS transition.
AMOSmobile extended with offline capabilities
The overall strategy of Swiss-AS for AMOSmobile is and always has been to support multiple types of OS-platforms (iOS, Android, Windows) – thereby not limiting our customers in their choice of device. Due to the lack of a suitable development framework when AMOSmobile was conceived, off-line capabilities were not supported at this time. With the arrival of mature development toolkits that combine multi-platform support with off-line capabilities, Swiss-AS is able to take the next big step in the evolution of AMOSmobile. Today's technologies allow Swiss-AS to create native apps with great user experience from one single source for all OS-platforms. AMOSmobile/STORES will be the first suite to have off-line capabilities by the end of this year followed by the existing AMOSmobile/EXEC suite being enhanced with off-line capabilities.
Thank you
Swiss-AS would like to take this opportunity to thank our active customer base, partners and supporters all over the world for the excellent cooperation in 2019 and we look forward to continuing the teamwork with you again throughout 2020.
About Swiss AviationSoftware and AMOS
AMOS is a comprehensive, fully-integrated MRO software solution being developed and distributed by Swiss AviationSoftware. Swiss-AS, a 100% subsidiary of Swiss International Air Lines has more than 190 customers worldwide and belongs to the industry-leading MRO software providers. Our loyal customer base includes pure operators of all sizes, major low-cost, regional and flag carriers, large airline groups and MRO providers. In the Americas and in Asia, AMOS is distributed through a partnership with Lufthansa Systems.