18.03.2021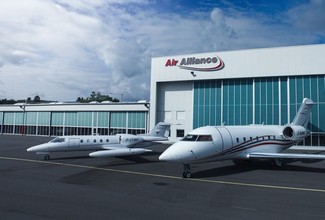 After a thorough selection process, Air Alliance GmbH has decided to award their M&E software contract to Swiss-AS. The AMOS MRO Edition is going to be implemented during 2021. This AMOS Edition is the fully integrated, high-end version of the software suite and tailor-made for the requirements of modern MRO organisations.
The German aviation service provider has selected AMOS to realise increased efficiency across its entire maintenance business and a more concise control of its day-to-day operation. The underlying business processes in AMOS are industry-best-practice and enable a lean and streamlined approach to operations whilst maintaining the safety and quality that Air Alliance stands for.
Swiss-AS will staff the project with German speaking trainers for a smooth knowledge transfer to the 60 key and end users.
"AMOS is a platform that brings all elements of the MRO business together and enables informed business decisions. We welcome Air Alliance to the AMOS Community and are proud to see the ever increasing number of MRO providers among them," states Ronald Scherer, CEO of Swiss-AS.
"AMOS is the solid basement on which Air Alliance GmbH is going to develop and grow in the future," says René Petersen, Managing Director of Air Alliance GmbH.
About Air Alliance GmbH
Air Alliance GmbH is an aviation service provider, located at Siegerland Airport in Germany. The company is operating in aviation since 1993. The broad service portfolio includes MRO, Part 21, CAMO+, AOG support, avionics component service, interior configuration as well as the selling of aircraft, spare parts and equipment. Air Alliance GmbH is authorized dealer for Pilatus, Garmin, Rockwell Collins and other known manufacturers.
The maintenance provider focuses on single- and multi-engine piston and turboprop aircraft, business jets and helicopters.