21.03.2018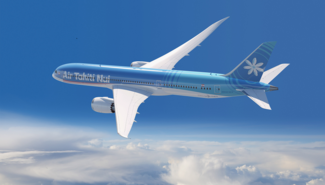 At a glance
Unique implementation approach
Ultra-efficient pre-sales process due to the excellent reputation of AMOS.  
Lean implementation powered by substantial AMOS know-how on customer side
Swiss-AS is proud to announce that Air Tahiti Nui has chosen AMOS as their "software of choice" for the new B787 fleet. After a short and very effective pre-sales process, the companies have signed contracts to implement AMOS.
The excellent reputation of AMOS in the industry reduced the software selection process to record times. Key personnel at Air Tahiti Nui, who had already worked with AMOS at other airlines, clearly influenced the decision in favour of AMOS.
The involvement of knowledgeable AMOS staff in the implementation process will facilitate the know-how transfer and assure that complex tasks, such as the definition of to-be-processes, will be tackled with ease. Another key factor of success is that Swiss-AS is fortunate to have French-speaking staff in the Customer Services department who will be involved in the project and will ensure smooth communication links between the Air Tahiti Nui and Swiss-AS.
Unique opportunity for cut-over of M&E software systems
The project approach is somehow unique in the Swiss-AS implementation history: Air Tahiti Nui will "go live" with AMOS without initially managing any aircraft in the system. Their current legacy system will be used in operation until the last A340 aircraft has been phased out. In the first project phase, the AMOS environment will be updated with OEM documents and the Maintenance Program for the new B787 fleet. Once the approval of the Civil Aviation Authorities has been granted, the airline will start to phase in the B787 aircraft. The beauty of this approach is that no legacy data needs to be transferred from the old to the new software - thereby avoiding the complexity of data transfer and consistency checks.
Ronald Schaeuffele, CEO of Swiss-AS, states, "The complete change of the operated fleet brings this unique chance to achieve a clean cut-over with the implementation of a new MRO solution. We look forward to working closely with the team of Air Tahiti Nui on this interesting project in this exotic and lovely location."
About Air Tahiti Nui
Air Tahiti Nui was founded in 1996 and is located in Papeete, Tahiti, French Polynesia. It operates long-haul flights to destinations in Europe, Asia-Pacific and the Americas.
The airline currently operates a fleet of A340, which will be phased-out and replaced by B787 by 2019.
Air Tahiti Nui performs line maintenance and relies on third parties for the performance of heavy maintenance activities on its aircraft.
About Swiss AviationSoftware and AMOS
AMOS is a comprehensive, fully-integrated MRO software solution being developed and distributed by Swiss AviationSoftware. Swiss-AS, a 100% subsidiary of Swiss International Air Lines, has more than 160 customers worldwide and belongs to the industry-leading MRO software providers. Our loyal customer base includes pure operators of all sizes, major low-cost, regional and flag carriers, large airline groups and MRO providers. In the Americas and in Asia, AMOS is distributed through a partnership with Lufthansa Systems. For more information, please contact us via marketing@swiss-as.com.
Michel Monvoisin, CEO of Air Tahiti Nui, states, "As we are transitioning to an exclusive B787-9 Dreamliner fleet, our company needs to work with solutions adapted to its new technological challenges. AMOS will allow us to do a better job in a transition that we want to be efficient, simple and smooth."