17.08.2022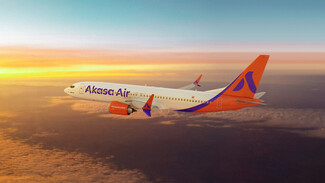 At a glance
New start-up airline in India with impressive growth plans
Individualised implementation strategy for a swift start of operations
Cloud hosting provided by Swiss-AS
Successful go-live after only three months project
AMOS with strong footprint in India
When Akasa Air was searching the market for an MRO software solution that would meet their requirements, the airline had two major criteria to be considered:
Start of commercial operation was planned for summer 2022 and the new software needed to support the airworthiness management of the fleet.
The start-up has 72 Boeing 737 MAX on order and plans to have completed the inductions of the ordered aircraft by 2027, being the reason why the desired software must be scalable and capable to support fleet growth without adding complexity.
Due to these two reasons, the airline was looking for a partner who could develop a strategy tailored to Akasa Air, with the objective to initially support a timely go-live and, in a second phase, to increase the usage of the software functionalities and the automation of the processes.
The implementation has just been finalised after just three months of project work with a successful go-live – on time with the operational start of their first B737 MAX.
The timely operational start of AMOS was possible due to:
As a start-up company with brand-new aircraft, only minor data transfer is required, a process that is often the deciding factor of the project duration and
the broad AMOS experience of the project team.
The Akasa Air team relies on Swiss-AS' cloud hosting service. The AMOS cloud hosting package, combined with AOS (management of application and database server), provides the customer with a fully cloud-hosted AMOS environment and ideal operating conditions to benefit from the full potential of AMOS. This option relieves Akasa Air of the need to operate a technical infrastructure on premise and provides an attractive and cost-effective alternative – being the perfect setup for a start-up airline.
"With AMOS, Akasa Air has chosen a scalable software that has proven to be the right choice many times when it comes to supporting airlines from start-up status to a mature airline coming along with a significant fleet increase. We are proud to further intensify our AMOS footprint in India. Welcome to the AMOS Community, Akasa Air!", states Fabiano Faccoli, CEO of Swiss-AS.
About Swiss AviationSoftware and AMOS
AMOS is a comprehensive, fully-integrated MRO software solution being developed and distributed by Swiss AviationSoftware. Swiss-AS, a 100% subsidiary of Swiss International Air Lines has more than 200 customers worldwide and belongs to the industry-leading MRO software providers. Our loyal customer base includes pure operators of all sizes, major low-cost, regional and flag carriers, large airline groups and MRO providers. In the Americas and in Asia, AMOS is distributed through a partnership with Lufthansa Systems. For more information, please contact us via marketing@swiss-as.com.