19.07.2022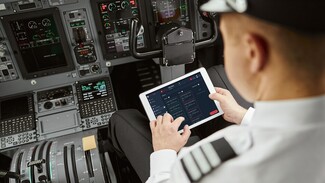 At a glance
Swiss-AS has launched the development of its eTL
Swiss-AS offers a unique product suite for pilots, cabin crew and maintenance staff
A joint development effort including members of the AMOS airline community
An eTL tightly integrated with AMOS…
At the end of 2020 Swiss-AS announced within the AMOS customer community the extension of its product portfolio by launching the development of its own eTL.
With the AMOSeTL, tightly integrated with AMOS, our customers will have a unique opportunity to improve the collaboration between pilots, cabin crew and mechanics. With the seamless integration of the AMOSeTL with AMOS and AMOSmobile/EXEC, customers benefit from a product suite that becomes the one source of truth for cockpit, cabin and maintenance staff.  Each airline will profit from streamlined end-to-end processes across AMOSdesktop, AMOSmobile and the eTL, providing increased data access and consistency across departments. 
… to better achieve the usual benefits expected from an eTL
With an intuitive user experience and an elegant user interface, the AMOSeTL provides flying crew, maintenance staff, administrators and authorities the right level of information and functions required in the respective context.
AMOSeTL main functions:
Pilot in command: reporting defects in an intuitive way, selecting them from a pre-existing list and being able to add any additional relevant information for the maintenance staff and goes beyond a defect report.
Cabin: being able to report a cabin defect in a simple way; if needed, a highlighted picture can be added in order to enhance the Flight Crew – Cabin Crew communication.
Maintenance: being able to report defects, close defects and perform line maintenance related tasks, such as daily checks, from its own working environment.
Admin: being able to manage users and roles, workflows and configuration directly in AMOS, roll-out updates and configuration through their Mobile Device Management.
Authorities: in analogy to the paper TechLog, the authorities need to consult and access the continuous airworthiness of the aircraft associated with the specific eTL. They can consult every page but are not able to edit any detail.
The implementation of the AMOSeTL ultimately leads to an end-to-end process optimisation and cost reduction, since the AMOSeTL helps optimising aircraft turnaround times, providing aircraft availability status in real time, and increasing data access and consistency for flying crew.
Simple implementation and platform independence for additional cost optimisation
At the early stages of its development project, Swiss-AS decided for a Type-A EFB application running on a portable EFB. This strategic choice simplifies the aviation authorities' approval process for our customers, while avoiding, once implemented, the continuous certification process of each new release of the application. Moreover, Swiss-AS is currently closely working with EASA to obtain an NTO letter to even more ease the adoption of the AMOSeTL by its customers and their authorities. 
Additionally, the AMOSeTL runs on several operating systems to leverage already deployed hardware in the cockpit and / or provide airlines the possibility to select the most cost efficient hardware for particular contexts.
A joint development effort including the AMOS airline customer community
Swiss-AS collaborates closely with customers to specify the product scope, as performed previously for the development of various AMOS features. This tradition is extended and even enhanced for the AMOSeTL project, which involves requirement gathering from cockpit crew, cabin crew and maintenance staff.   
Over the past months, Swiss-AS had the privilege to onboard several AMOS customers to the eTL development partners group, such as EL AL ISRAEL AIRLINES, Luxair and Cebu Air. Since the project kick-off in September 2021, both Swiss-AS and customer project team members attended numerous workshops to define key features to be used by pilots, cabin crew and maintenance users. 
We consider this customer-centric scope definition and validation process to be a highly constructive and successful model to facilitate the delivery of a mature and functionally advanced product.
Thanks to this strategic partnership with AMOS airline customers of several types and sizes, Swiss-AS will deliver its eTL solution in Q4 2023.
"EL AL considers the eTL as an integral part along with AMOSmobile/EXEC to enable paperless throughout our maintenance. Having it as part of AMOS is a huge advantage with hope for a smooth integration. We are delighted to have the opportunity to take an active role in the development phase of the product, influencing and shaping the tool and providing a good learning experience." states Danny Laredo, Paperless Project Manager, Maintenance & Engineering Division at EL AL ISREAL AIRLINES.
For more information and regular updates, please visit swiss-as.com/amos-mro/etl