13.07.2023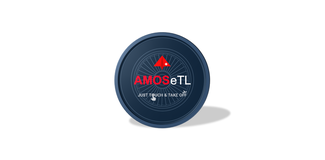 At a glance
- AMOSeTL now available for productive use in AMOS version 23.6

- SunExpress scheduled as first go-live customer in October 2023

- AMOSeTL sets a new standard for electronic technical logbooks with its streamlined integration capabilities
Around two years ago, Swiss-AS has initiated its AMOSeTL project, and the first line of code has been written in November 2021. Today, we are pleased to announce a major milestone: the release of AMOSeTL in AMOS version 23.6 ready for productive use. We are also thrilled to share that SunExpress, one of our esteemed funding customers, is scheduled to go live with AMOSeTL in October 2023, marking the first productive implementation of this innovative solution. 
AMOSeTL represents the culmination of extensive research, development, and dedication to delivering a mature and functionally advanced product. The strong traction and interest we have received from within the aviation industry confirm that we are on the right track. We are confident that this first implementation will showcase the full potential of AMOSeTL and further solidify its reputation as an industry-leading solution.
SunExpress will complete the final phase of the "Paperless Aircraft Maintenance Operations Project" with the use of AMOSeTL, as it will ultimately replace the paper-based Technical Log System. SunExpress is the first airline to implement paperless aircraft maintenance in Türkiye and among one of the few airlines worldwide. SunExpress is constantly improving its processes for greater efficiency and sustainability.
AMOSeTL: Redefining Integration
One of the key selling points of AMOSeTL lies in its unique integration capabilities. Unlike other solutions, AMOSeTL eliminates the complexities and costs associated with configuring complex interfaces. Our streamlined approach offers a plug-and-play integration experience that is unparalleled in the industry. By leveraging AMOSeTL's pre-built integration capabilities, AMOS customers can enjoy a seamless and successful deployment, saving valuable time and resources.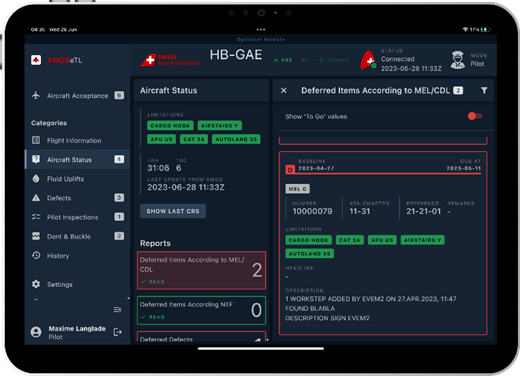 Concrete Examples of Seamless Integration:
- When a pilot opens a PIREP, AMOSeTL instantly generates a workorder in AMOS

- Defect closures or deferrals by maintenance are automatically synchronized with AMOS, providing real-time updates
Furthermore, it offers a two-way communication, ensuring seamless integration accross the whole product suite. Indeed, closing a workorder from AMOSmobile/EXEC or AMOS will update AMOSeTL in less than a second.
Pilots, mechanics, cabin crew, and back-office staff will always have the most up-to-date data at their fingertips whenever connectivity is available. Additionally, AMOSeTL seamlessly works offline for several legs, automatically pushing data to AMOS as soon as it is back online.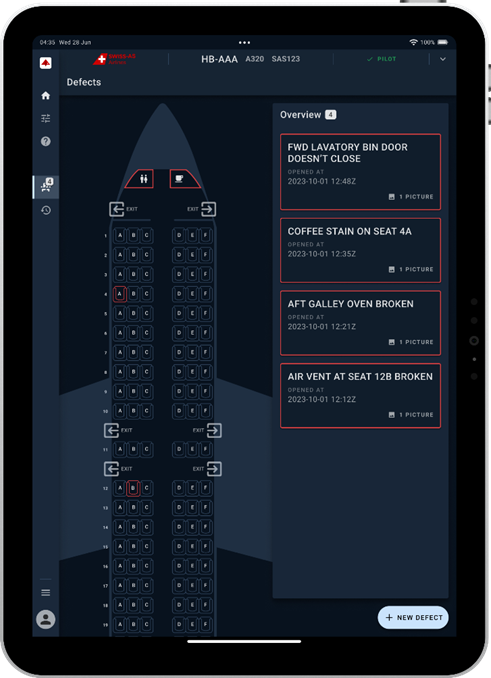 As we move forward with our funding and new customers, our product roadmap is focused on continuous improvement, with regular updates and enhancements planned to ensure that AMOSeTL remains the natural choice for an AMOS customer looking for an electronic technical logbook. 
Please contact our dedicated team at marketing@swiss-as.com to learn more about AMOSeTL and how it can digitize your Techlog book management.