16.02.2023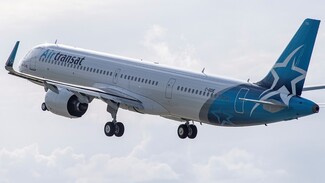 After the implementation of AMOS in 2007 and with the aim of keeping up with the rapid changes of the MRO industry, Air Transat, Canada's number one leisure airline, can rely on the leading software solution from AMOS to sustain its productivity efficiency gained over the past years. Therefore, to enhance its efficiency and performance even more, the airline is now live with AMOSmobile/EXEC. This is the first stage, for a later implementation of e-signature, after compliance with the authorities.  
The scope of use for this module for line maintenance engineers ranges from actioning and closing a work order, releasing a work package, issuing a defect, issuing a pick order, adding damage, performing a component change, checking the amount of stock available, entering techlog details, etc.
AMOSmobile/EXEC will be used in their main base maintenance sites such as Montreal and Toronto.
About Air Transat
Founded in Montreal 35 years ago, Air Transat is a leading leisure travel brand. Voted North America's Best Leisure Airline by passengers at the 2022 Skytrax World Airline Awards, it flies to international, transborder and Canadian destinations. It is renewing its fleet with the greenest aircraft in their category as part of a commitment to a healthier environment, knowing that this is essential to its operations and the magnificent destinations it offers. Air Transat is a business unit of Transat A.T. Inc. (TSX: TRZ).
About Swiss AviationSoftware and AMOS
Swiss-AS is an industry leading M&E/MRO software provider that offers an end-to-end integrated, highly intelligent software suite, designed to cover the entire spectrum of maintenance activities. AMOS, in combination with its mobile package, empowers its large and loyal aviation customer base – ranging from pure operators of all sizes, over major low-cost airlines, flag carriers, and large airline groups to MRO providers – to digitalise and automate their maintenance processes and connect with other industry solutions via the connectivity platform AMOScentral. For more information, please contact marketing@swiss-as.com.