31.10.2018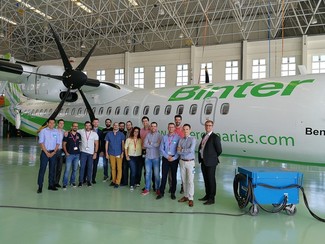 At a glance
Binter Technic celebrating AMOS go-live
Another MRO provider joins the AMOS Community
Dedicated project teams ensuring timely go-live
Swiss-AS is pleased to announce the smooth AMOS go-live of Binter Technic.
"Binter Technic is one of the most well-known MRO providers when it comes to ATR aircraft. On behalf of Swiss-AS I would like to congratulate Binter Technic on the successful cut-over to AMOS and officially welcome them to the AMOS Community. We are pleased that the circle of MRO providers using AMOS is expanding constantly," states Ronald Schaeuffele, CEO of Swiss-AS.
Right from the beginning, the project had a strict timeline as the go-live was planned to take place before Binter's high season starts. Thanks to the dedicated key users, the ambitious timeline for the cut-over was successfully completed with an on-time go-live. The big bang cut over was very smooth with hardly any disruption to the ongoing maintenance projects and the Binter workforce rapidly integrated the new processes.
Binter Technic decided to perform all related project tasks in-house. While other companies may engage third parties to outsource time-intensive project tasks, such as data migration or change management, Binter Technic was in the fortunate position of having the required resources and skills available in-house.
The project was characterized by the strong personal dedication and effort of the project team. During the go-live, the Binter Technic key users and the Swiss-AS onsite team joined forces to finalize this implementation with a successful cut-over.
AMOS Airline/MRO Edition
Binter Technic has chosen the AMOS Airline/MRO Edition, being the perfect fit for them, as they provide line and base maintenance for the ATR fleet of Binter Canarias whilst also competing for third-party maintenance contracts outside the Binter Group.
Besides the MRO functions, the next development milestone in Swiss-AS history - AMOScentral - has great potential to bring further added value to Binter Technic. As an MRO, the organization could foresee use of AMOScentral to easily transfer information, such as workpackage data, to their customers within the AMOS community.
About Binter Technic
Binter Technic is an ATR Maintenance, Repair and Overhaul Centre based in the Canary Islands. The MRO provider has more than 25 years of experience in ATR maintenance and performs complex structural repairs, cargo conversions, modifications, engine workshop, engineering support and interiors refurbishing etc. Its high-quality services are performed for the fleet of Binter Canarias and external companies.
About Swiss AviationSoftware and AMOS
AMOS is a comprehensive, fully-integrated MRO software solution being developed and distributed by Swiss AviationSoftware. Swiss-AS, a 100% subsidiary of Swiss International Air Lines, has more than 170 customers worldwide and belongs to the industry-leading MRO software providers. Our loyal customer base includes pure operators of all sizes, major low-cost, regional and flag carriers, large airline groups and MRO providers. In the Americas and Asia, AMOS is distributed through a partnership with Lufthansa Systems. For more information, please contact us via marketing@swiss-as.com.
Binter Technic's general manager of Maintenance, Juan Manuel Pérez, showed his satisfaction with the integration of AMOS into the organization: "AMOS is an important step that will help us to update our fleet maintenance process and, eventually, this will be reflected in a better service to our costumers/clients, who will also benefit from this integration."