11.09.2018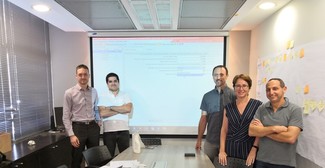 Everyone within the AMOS community is encouraged to contribute to sustainable new developments, concepts and ultimately to the longevity and competitiveness of the system.
Over the past months, Swiss-AS worked closely with EL AL on the refactoring of one of the original AMOS core functions which is a pillar of material procurement and logistic capabilities in AMOS: the Advanced Reorder Proposal module.

The AMOS Advanced Reorder Proposal module is one of the main tools for material buyers and it is used to ensure that adequate stock levels for consumable and expendable parts are held in the stores. The numerous exchanges and workshops between EL AL AMOS key users and Swiss-AS Product Management and Development teams resulted in the development of advanced inventory management concepts and data visualisation that will help AMOS customers to improve the performance of their supply chain and to further save costs. These additional functionalities will be delivered to the whole customer community with the next AMOS Release 12.20.

EL AL is the flag carrier of Israel operating scheduled domestic and international services and cargo flights to Europe, North America, Africa and the Near and Far East from its main base in Ben Gurion International Airport, Tel Aviv.
We are glad to rank EL AL among our loyal customer base since 2014. We are proud of the strong AMOS Competence Centre (ACC) at EL AL that cares for users' high AMOS adoption and best practices as well as provides a level of support that fits the organisation and fully captures the benefit of the latest AMOS developments.