26.06.2023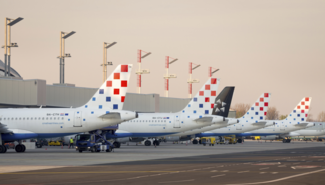 At a glance
Croatia Airlines to implement AMOS Airline/MRO Edition
AMOS supports strategic fleet renewal
Seamless integration as part of new Digital Tech Ops Ecosystem
Swiss-AS is pleased to announce its strategic partnership with Croatia Airlines, the national carrier of Croatia. This collaboration will see the implementation of AMOS, a comprehensive software solution designed to optimize and streamline the airline's maintenance and engineering operations.
The decision to adopt the AMOS Airline/MRO Edition after a comprehensive evaluation of various industry-leading solutions, aligns with Croatia Airlines' commitment to ensuring the highest standards of safety, efficiency, and reliability in its operations. By leveraging the advanced features and functionalities of the AMOS software, Croatia Airlines aims to enhance its maintenance processes, and overall operational efficiency.
AMOS is widely recognized as a robust and industry-leading solution in the aviation maintenance domain. Its state-of-the-art capabilities will empower Croatia Airlines to effectively manage its fleet's maintenance, engineering, and logistics processes, ultimately reducing downtime and increasing aircraft availability.
The AMOS software suite will provide Croatia Airlines with comprehensive functionality and support their strategic fleet renewal into an all-new A220 fleet by 2026 by offering powerful capabilities for aircraft phase-in and out.
Additionally, the system's user-friendly interface and intuitive workflows will enhance the productivity and collaboration among the airline's maintenance and engineering teams.
As Croatia Airlines is already using AVIATAR, Lufthansa Technik's independent and open digital platform for the aviation industry, they will soon profit from a seamless integration of the two systems as part of the new Digital Tech Ops Ecosystem.
"We are delighted to announce that Croatia Airlines will be introducing new, more comprehensive MRO software system AMOS for our operations, said Jasmin Bajić, CEO and President of the Management Board of Croatia Airlines. "After considering number of options, strategic decision was made to use AMOS as our main platform to support our Part-CAMO, Part-145, Logistics and Finance, as well as the third-party requirements. AMOS was selected as our future platform, due to its compatibility and wide industry usage, strong customer focus, easy transition and integration, regulatory framework (EASA), cost reduction and productivity efficiency. Choosing the right platform for our organisation was crucial, as we needed the product that would have the capability to go well beyond requested scope, and would provide Croatia Airlines with a long-term strategic advantage. We are looking forward to implementing AMOS as our new software system in the near future." 
"It is our pleasure to welcome Croatia Airlines to our growing list of customers," said Fabiano Faccoli, CEO of Swiss-AS. "AMOS will equip Croatia Airlines with a potent tool-set to maximize their operational efficiency, minimize costs, and ensure compliance with industry regulations. We look forward to supporting them in achieving their maintenance and engineering goals."
The implementation of AMOS at Croatia Airlines is expected to commence in the coming weeks. The project will involve close collaboration between the expert teams from Croatia Airlines and Swiss-AS to ensure a smooth transition to the new system.
About Croatia Airlines
Croatia Airlines, the Croatian flag carrier, was registered under the name of Zagreb Airlines d.d. in 1989. Since July 1990, the company has been operating under its present name. The major hub is in Zagreb.
Croatia Airlines is a full-service carrier that provides domestic and international air passenger and cargo transport services. The company connects Croatian cities with the most important European centres and, through them, the entire World. It also provides aircraft maintenance and professional training of aviation personnel. 
The company is a full member of the International Air Transport Association (IATA), Star Alliance and the European Regions Airline Association (ERA).
In its 34 years of operations the company has been recognized by its passengers for flight safety, quality of services and professional staff. 
Croatia Airlines has a fleet comprising 13 aircraft: five A319s, two A320s and six Dash Q400s.
www.croatiaairlines.com
About Swiss AviationSoftware and AMOS
Swiss-AS as an industry leading M&E / MRO software provider offers an end-to-end integrated, highly intelligent software suite, designed to cover the management of the entire spectrum of maintenance activities. AMOS in combination with its mobile package empowers its large and loyal aviation customer base – ranging from pure operators of all sizes, over major low-cost, regional and flag carriers, and large airline groups to MRO providers – to digitalize and automate their maintenance processes and connect with other industry solutions beyond the boundaries of AMOS via the data messaging platform AMOScentral.