10.12.2020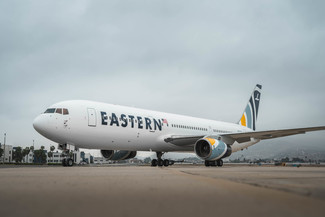 At a glance
Eastern Airlines signed for the AMOS Airline/MRO Edition to efficiently and diligently manage its large spectrum of maintenance activities – up to the "tiniest" detail
Swiss-AS Cloud hosting including AMOS Operational and Monitoring Services has been entrusted to Swiss-AS
AMOS implementation already up and running.
A new US airline to join the AMOS Community
Eastern Airlines state on their homepage that their passion for aviation is unmatched in the universe. "Our attention to detail is focused on the tiniest mechanical check and the cobalt blue stitching on Seat 17B." Swiss-AS is glad to reveal that Eastern Airlines, based in Pennsylvania, USA, has selected AMOS as their MRO software to support their fleet of twelve B767 and B777 aircraft. The AMOS Airline/MRO Edition will allow Eastern Airlines to take full advantage of the deep functionality of AMOS over the broad scope of maintenance processes that the company performs.
Eastern also opted for a fully AMOS cloud hosted model with AMOS running on a PostgreSQL database which falls in line with their  corporate IT policy to keep internal IT effort to a minimum and increase cloud environments across all platforms.
"Having the pleasure to welcome Eastern Airlines to the AMOS Community is a big step forward for Swiss-AS in the highly competitive US market. It is great to play a part in supporting growing airlines to become efficient and we look forward to support Eastern on their journey," states Ronald Schaeuffele Scherer, CEO of Swiss-AS.

This rapidly growing US carrier will embrace AMOS best-practice processes as their new standard for maintenance activities. The team is highly motivated to use AMOS to transform their work life and focus on efficiencies and productivity whilst ensuring the highest safety and quality standards are adhered to. In addition, the airline opted for AMOSmobile/EXEC. The fact that AMOS has an integral mobile solution was a significant reason why Eastern chose the system. With this fully integrated AMOS add-on, the maintenance staff will have direct access to live data and enable them to record all activities directly at the aircraft in real time – paperless.
Project running despite COVID-19 restrictions
The implementation project already started in July this year. Due to the highly demanding business sector that Eastern operates in, the project approach is designed to be lean and swift. Swiss-AS and Eastern are both working hard to manage through the current pandemic environment without having a significant negative impact on the project, while the focus is clearly on safety and efficiency. The detailed implementation project plan recognises the reduced opportunity for travel with a focus on virtual training sessions and remote working by the whole implementation team.
Steve Harfst, President and CEO of Eastern Airlines, says "In supporting our growth and our commitment to providing safe, on-time and reliable air transportation, Eastern is taking steps to ensure that we provide our team with the tools and services they need to serve our customers. The addition of AMOS and its mobile applications will help Eastern meet that goal."
Eric Couvreur, VP Maintenance and Engineering of Eastern Airlines, adds "Eastern is very excited about the implementation of AMOS! The system has greatly increased our ability to control the maintenance, material, quality and engineering functions. We are planning to use the system to its full capability when implementation is complete to include AMOSmobile. The cloud environment is the way forward and a goal for Eastern across all platforms. With AMOS, we have joined many of our peers in reaching this goal for aircraft maintenance operations. We are happy to have aligned ourselves with a powerful partner and look forward to our combined growth."
About Eastern Airlines
Eastern Airlines, LLC ("Eastern") was originally founded in 1926. By 1930, Eastern grew to become one of the "Big Four" domestic airlines, where it would remain for the next several decades. As a carrier with a legacy of pioneering new routes, Eastern Airlines returned to the skies in 2020 for its next adventure as the first scheduled carrier to be certified in the United States since 2007. Eastern is a US-Part 121 flag air carrier operating wide-body, long-range aircraft with scheduled domestic and international flights as well as passenger and cargo authority. Eastern is headquartered in Wayne, Pennsylvania and operates a fleet of twelve Boeing B767 and B777 series passenger aircraft. The airline focuses on nonstop-only flights to underserved markets across the globe.
About Swiss AviationSoftware and AMOS
AMOS is a comprehensive, fully-integrated MRO software solution being developed and distributed by Swiss AviationSoftware. Swiss-AS, a 100% subsidiary of Swiss International Air Lines has more than 190 customers worldwide and belongs to the industry-leading MRO software providers. Our loyal customer base includes pure operators of all sizes, major low-cost, regional and flag carriers, large airline groups and MRO providers. In the Americas and in Asia, AMOS is distributed through a partnership with Lufthansa Systems. For more information, please contact us via marketing@swiss-as.com.