20.04.2023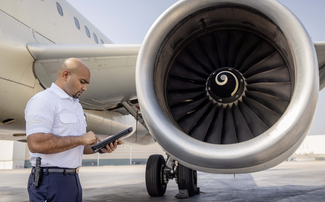 At a glance
- AMOSmobile/EXEC as key player in achieving digital transformation goals

- Effortless implementation by Etihad's AMOS Competence Centre

- Next digitalization step to come is the introduction of e-signature
Swiss-AS is delighted to share that Etihad Airways Technical, the airline's engineering & maintenance organisation opted for the integrated mobile solution AMOSmobile/EXEC to enable mobile execution of all its line and light base maintenance activities. Their digitalisation vision is to lead the industry and their strategy is in line with the market's growing interest for technological improvements and optimisation of operational efficiency. Swiss-AS is proud to participate, together with Etihad, to these accomplishments.
Long-term digitalisation project in full swing
It has been 2 years since Etihad Airways Technical has successfully implemented a single maintenance information system, AMOS for its entire fleet to digitise and automate the airline's engineering and maintenance activities. 
The recent rollout of AMOSmobile/EXEC marks a new milestone in the digital transformation journey of Etihad Airways Technical as they move forward with their digitisation journey and sustainable technological solutions to enhance safety performance, drive operational efficiencies, and ensure optimal financial performance.
AMOSmobile/EXEC to bring efficiency and cost savings
AMOSmobile/EXEC has been rolled out to about 1,000 engineers and technicians at Etihad's home base in Abu Dhabi, UAE with approximately 100 iPads available to be used in line and light maintenance operations, to update AMOS with executed maintenance work without the need to travel back and forth between the aircraft and the office. 
This supports smoother and more streamlined processes and is a key enabler to Etihad Technical's paperless maintenance strategy.
The daily working processes and the efficiency of the engineers and technicians will drastically improve as they move from paper-based processes to a fully integrated collaboration with AMOS providing live data. 
Etihad is also eager to implement paperless operations to make AMOSmobile/EXEC deliver its full value and get the full benefit of its platform allowing the airline to go fully paperless: Mechanics will have the possibility to open and close work orders from their tablet, track events, perform troubleshooting or report defects on the aircraft in AMOSmobile, ultimately improving efficiencies and productivity whilst ensuring they continue to improve safety and compliance.
Paul Kear, Senior Vice President Technical at Etihad Airways, said: "Etihad is continuously exploring new ways to enhance its operations and provide its guests and its employees with world-class services and processes. Our strategic partners and stakeholders play a vital role in this venture, and Swiss-AS have been a valuable partner in our digitalisation agenda. Our most recent implementation of AMOSmobile is another example of how we are leveraging innovative technologies to enhance operational efficiencies".
The implementation was completed with very little involvement from Swiss-AS' project team as Etihad Airways' team has a well-rounded experience of AMOS and counts among Swiss-AS long-term partners. AMOSmobile/EXEC has been live since the end of 2022.
About Etihad Airways
Etihad Airways, the national airline of the UAE, was formed in 2003 and quickly went on to become one of the world's leading airlines. From its home in Abu Dhabi, Etihad flies to passenger and cargo destinations in the Middle East, Africa, Europe, Asia, Australia and North America. Together with Etihad's codeshare partners, Etihad's network offers access to hundreds of international destinations. In recent years, Etihad has received numerous awards for its superior service and products, cargo offering, loyalty programme and more. 
Etihad sees tackling the climate crisis as the most important issue of our time and was named the Airline Ratings Environmental Airline of the Year 2022. Through strategic partnerships with major global aviation brands and OEMs, Etihad is relentless in its pursuit of industry decarbonisation. To learn more, visit etihad.com.
About Swiss AviationSoftware and AMOS
Swiss-AS is an industry leading M&E/MRO software provider that offers an end-to-end integrated, highly intelligent software suite, designed to cover the entire spectrum of maintenance activities. AMOS, in combination with its mobile package, empowers its large and loyal aviation customer base – ranging from pure operators of all sizes, over major low-cost airlines, flag carriers, and large airline groups to MRO providers – to digitalise and automate their maintenance processes and connect with other industry solutions via the connectivity platform AMOScentral. For more information, please contact marketing@swiss-as.com.