12.04.2021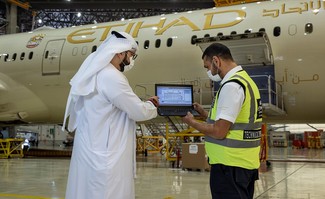 At a glance
Etihad Airways now leverages the use of its MRO software solution AMOS 
A successful AMOS implementation during incredibly challenging times
AMOS fits into the bigger picture and ambitions of Etihad Airways
The Etihad Airways' Technical organisation, which is responsible for engineering and maintenance activities for the airline, is driving a holistic digitisation strategy to harness efficiencies and simplify processes across the Etihad fleet. AMOS perfectly fits into this picture due to offering paperless maintenance, pushing automation wherever possible, and enhancing airworthiness.
At the beginning of 2020, the airline commenced a key part of its digital transformation journey to deploy AMOS across the entire fleet. The immediate benefit from managing the whole fleet in one solution was self-evident and the foundations for technological innovation and operational efficiencies had been laid.
In this deployment project Etihad Airways, Swiss-AS and Lufthansa Systems joined forces in order to meet the challenging project timeline of just nine months and to have the engineering and maintenance activities of the whole fleet managed in AMOS. The onset of the COVID-19 pandemic showcased the creativity and resilience of the project team, who followed an agile implementation methodology, organised online workshops, and virtual training sessions to meet the ambitious go-live schedule. 
One challenge of the implementation was the fact that AMOS was already used for part of the fleet. It meant any process and workflow changes, as well as data uploads, had to be very carefully planned and performed to ensure data and process consistency between the NG and legacy fleet was maintained.
Etihad Airways has excellent AMOS in-house know-how regarding the operation and configuration of the system. For that reason the Etihad project team took the lead in the implementation project, while Lufthansa Systems and Swiss-AS assumed a supportive role in specialist areas. Swiss-AS' highly experienced team of experts provided consultancy on topics such as IT operations, finance transactions (including interfacing with finance system) and data migration and harmonisation.
Lufthansa Systems Airline consulting team provided expert support with management of change to enable the fast transformation and business process definition in the areas of supply chain management, component maintenance and stores management.
"As a business we have committed to digitisation as a key driver to achieving our sustainability objectives for a paperless, data driven organisation. We are making excellent progress towards our vision and the implementation of AMOS across the Etihad fleet is an example of collaboration working to leverage best-in-class industry expertise to facilitating efficiencies and building trusted processes that will support the future of our business," said Paul Kear, Senior Vice President Technical, Etihad Airways. 
Dr. Toni Reitz, Head of Management Consulting of Lufthansa Systems, focuses on the human factor: "Despite all developments in technology, change management is eventually about habits and ways of thinking. Therefore we were very glad that, despite the global pandemic situation with all its restrictions, our team managed to be on premise and work with the staff of Etihad to support them in the process of implementing the full range of AMOS business functions in order to capitalise on the system's potential."
What's next
Currently Etihad's entire fleet is managed in one fully integrated MRO system and all engineering and maintenance processes have been reviewed and streamlined according to industry-best-practice. Etihad Airways is looking ahead to the next steps of its digitisation journey and building a fully integrated eco-system around AMOS in partnership with Swiss-AS. The goal is to connect real-time information between systems, which will continue to enhance airworthiness and safety performance. Discussions have also started to implement AMOSmobile as part of the company-wide e-signature initiative and to use AMOS for a total-life-cycle cost overview in the future.
"With the introduction of its complete fleet into AMOS, Etihad now has a solid bedrock to further digitize and digitalize its maintenance operations. Swiss-AS has been impressed by the determination of Etihad in achieving this critical milestone despite the ongoing pandemic. Now we are looking forward to support Etihad in exploiting the potential of AMOS to address today's and tomorrow's challenges," states Fabiano Faccoli, COO of Swiss-AS.
About Etihad Airways
Etihad Aviation Group, a diversified global aviation and travel company, is considered to be one of the world's most acclaimed aviation brands. Etihad Airways, the national airline of the UAE, was formed in 2003 and quickly went on to become one of the world's leading airlines. Etihad flies to destinations across the world from its hub in Abu Dhabi with a young and environmentally friendly fleet of Airbus and Boeing aircraft. In recent years, the organisation has received numerous awards for its service and products, cargo offering, loyalty programme, aviation training and Maintenance, Repair and Overhaul (MRO) service.
About Swiss AviationSoftware and AMOS
AMOS is a comprehensive, fully integrated MRO software solution being developed and distributed by Swiss AviationSoftware. Swiss-AS, a 100% subsidiary of Swiss International Air Lines has more than 190 customers worldwide and belongs to the industry-leading MRO software providers. Our loyal customer base includes pure operators of all sizes, major low-cost, regional and flag carriers, large airline groups and MRO providers. In the Americas and in Asia, AMOS is distributed through a partnership with Lufthansa Systems.
About Lufthansa Systems
Lufthansa Systems GmbH & Co. KG is a leading global airline IT provider. Based on long-term project experience, a deep understanding of business processes and strong technology know-how, the company provides consulting and IT services for the aviation industry. More than 350 customers worldwide rely on the know-how of specialists at Lufthansa Systems. Its portfolio covers innovative products, solutions and services, which provide added value for its customers in terms of enhanced efficiency, reduced costs or increased profits. Headquartered in Raunheim near Frankfurt/Main, Germany, Lufthansa Systems has offices in 16 other countries.