05.12.2022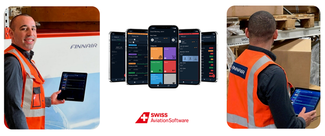 Swiss-AS is currently with Finnair for the very first workshop for AMOSmobile/STORES!
As one of our launch customers for AMOSmobile/STORES, their go-live with this add-on is planned for September 2023 with the release of AMOS 22.12. The following processes will be in the scope for this go-live: Binning, Picking, Inventory and Return.
The second module of our mobile suite, AMOSmobile/STORES, will initially be used at Finnair by approximately 40 storemen working in 3 warehouses in Helsinki Airport before being rolled out to their outstations.
We thank Finnair and all launching customers for trusting us by implementing a new product that we believe will help them benefit from the optimised support of barcodes and labels across all store locations. The collaboration (agile, onsite, and remote sessions) between Finnair and Swiss-AS R&D will continue in the next AMOS releases to further improve AMOSmobile/STORES in a customer-centric approach.