20.11.2023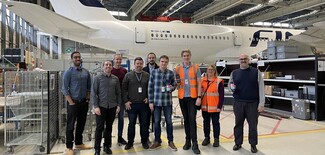 At a glance
- First AMOSmobile/STORES launch customer live on AMOS 22.12

- Implementation project dedicated to re-design internal processes to reach improved efficiencies.

- AMOSmobile/STORES Roadmap for future releases: Receiving and Goods Handling Modules 
Swiss-AS is delighted to announce that on October 17, 2023, Finland's Flag Carrier, FINNAIR, our very first launch customer for the second module of our mobile suite, successfully went live with AMOSmobile/STORES using our product in AMOS 22.12.
First launch customer live
AMOSmobile/STORES is set to enhance efficiency in warehouses and stores management, taking us one step closer to a paperless future. This implementation introduces a range of essential processes into Finnair's operations, including Binning, Picking, Inventory, Parts Transfer and Return functionalities. As of today, the Tooling functionalities of AMOSmobile/STORES are not part of Finnair's operational scope.
As we witness Finnair's journey toward enhanced warehouse and store management, we anticipate the positive impact of this milestone on their operations and the industry as a whole. Swiss-AS remains dedicated to delivering transformative solutions that empower businesses in today's dynamic digital landscape. The deployment of AMOSmobile/STORES initially benefits approximately 40 warehouse employees across three warehouses at Helsinki Airport. Following this success, the plan is to consider expanding the deployment of AMOSmobile/STORES to FINNAIR's outstations, marking a pivotal advancement in store management. One of AMOSmobile/STORES's objectives is to optimise support for barcodes and labels across all store locations as well as enhancing operational efficiency and reliability.
The seamless process and successful implementation are a testament to the dedication of all teams and individuals involved. This accomplishment reaffirms our commitment to delivering successful projects and our vision for revolutionising store management. 
"I am very excited about the implementation of AMOSmobile/STORES in our warehouse operation. The implementation project has been characterized by great collaboration between Finnair and Swiss-AS. We are confident that taking this step towards a paperless warehouse operation is a strong foundation for success and enables further development in other material management functions" said Tony Veevo, Head of Material Operations at Finnair Technical Services.
AMOSmobile/STORES Roadmap for future releases
The development of AMOSmobile/STORES will persist in upcoming AMOS releases. 
In AMOS 22.12, our AMOSmobile/STORES suite already allows our customers to work offline, with the possibility to reconcile data when the connection is restored. 
As part of the development of AMOS 23.6, Swiss-AS has worked on the introduction of Quick Receiving for orders and shipments, to provide the possibility to perform simple receiving actions, such as receiving an order or marking a shipment as ARRIVED. Swiss-AS's team is constantly working towards offering the best user-experience by letting AMOS provide most of the required data input, with the use of different sources (interfaces, standardised documents, etc.).
For the upcoming 23.12 AMOS release, the new Goods Handling module is planned to be extended with functionalities to scan certificates with OCR capabilities. The receiving scope will also be extended to all order types, and new features for the management of Outgoing Shipments will be introduced to add order details to existing shipments seamlessly.
Our customer-centric approach ensures continuous alignment with the evolving needs of our valued customers. We extend our heartfelt gratitude to FINNAIR and all our launch customers for their unwavering trust in our innovative product. Swiss-AS is committed to support all our customers in their journeys toward successful deployments. We are confident that this milestone will inspire other customers to explore the transformative potential of AMOSmobile/STORES.
About Finnair
Finnair is the flag carrier and largest full-service legacy airline of Finland, with headquarters in Vantaa on the grounds of Helsinki Airport, its hub. Finnair and its subsidiaries dominate both domestic and international air travel in Finland, its major shareholder being the State of Finland. Finnair just reached 100 years of service in November 2023, making it the sixth oldest airline in continuous operation, and is consistently listed as one of the safest in the world.
About Swiss Aviation Software & AMOS
Swiss-AS as an industry leading M&E / MRO software provider offers an end-to-end integrated, highly intelligent software suite, designed to cover the management of the entire spectrum of maintenance activities. AMOS in combination with its mobile package empowers its large and loyal aviation customer base – ranging from pure operators of all sizes, over major low-cost, regional and flag carriers, and large airline groups to MRO providers – to digitalise and automate their maintenance processes and connect with other industry solutions beyond the boundaries of AMOS via the data messaging platform AMOScentral.