06.05.2019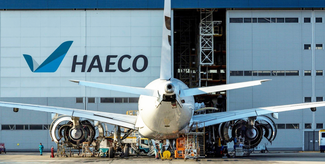 At a glance
AMOS to support digital transformation process at HAECO Group, one of the world's leading aircraft engineering and maintenance service providers
Implementation at HAECO Hong Kong already underway
Framework agreement paves the way for further Group members to implement AMOS
Implementation project has already kicked off
Swiss-AS announces with tremendous pleasure that HAECO Group has selected AMOS as its preferred MRO software to be deployed in its Hong Kong operations. The main objective of this large-scale implementation project is to replace the current system - consisting of many point-to-point solutions - by a fully integrated end-to-end solution. HAECO Hong Kong will apply AMOS across its wide spectrum of services, including core airframe services and line services.
HAECO Hong Kong starts the AMOS implementation while the framework agreement lays the foundation for implementing AMOS in other HAECO group companies.
During the pre-sales process, the HAECO evaluation team analysed and reviewed carefully the functional scope of the AMOS MRO Edition against the group´s comprehensive requirement catalogue. The advanced MRO functions developed by Swiss-AS, including but not limited to Quotation/Contract Management, Hangar/Facility Planning, and Production/Finance Control Dashboards convinced the HAECO team that AMOS was its product of choice. Apart from the desktop version, AMOSmobile functions will be deployed in the heavy/line maintenance context to further support HAECO Group in its digital transformation process. To ensure the successful implementation, the HAECO evaluation team also needed the assurance that Swiss-AS had the necessary expertise and proven implementation approach to steer this project. All aspects of the different project streams, from know-how transfer, process definition to data migration and technical set-up, were elaborated in great details before reaching a final decision.
This in-depth pre-sales process allowed the swift start of the implementation. In the meantime, the project kick-off has already taken place, being the "starting signal" for a large-scale project that affects the daily work routine of several thousands of users in HAECO Hong Kong.
HAECO Hong Kong will rely on Swiss-AS AMOS Operation Service (AOS) - with Swiss-AS managing all the tasks related to the AMOS application server and database server administration - to ensure a smooth running of the system.
"Swiss-AS believes that AMOS, as a scalable end-to-end solution, is the right tool for the HAECO Group and has the potential to unlock new levels of efficiency and productivity. AMOS will provide HAECO with a future-proof solution to fully support the group's digital transformation process. We are grateful for the trust placed in us and look forward to a long-term partnership with HAECO," stated Ronald Schaeuffele, CEO of Swiss-AS.
About Hong Kong Aircraft Engineering Company Limited (HAECO Group)
The HAECO Group is one of the world's leading aircraft engineering and maintenance service providers.  The Group provides a comprehensive range of services encompassing Airframe Services, Line Services, Cabin Solutions, Private Jet Solutions, Fleet Technical Management, Inventory Technical Management, Component Overhaul, Aerostructure Repairs, Landing Gear Services, Engine Services, Parts Manufacturing and Technical Training. The HAECO Group consists of 17 subsidiaries and joint ventures, employing around 17,000 staff in Hong Kong, Mainland China, Singapore and the United States. HAECO Group's website: www.haeco.com
About Swiss AviationSoftware and AMOS
AMOS is a comprehensive, fully-integrated MRO software solution being developed and distributed by Swiss AviationSoftware. Swiss-AS, a 100% subsidiary of Swiss International Air Lines, has more than 180 customers worldwide and belongs to the industry-leading MRO software providers. Our loyal customer base includes pure operators of all sizes, major low-cost, regional and flag carriers, large airline groups and MRO providers. In the Americas and in Asia, AMOS is distributed through a partnership with Lufthansa Systems. For more information, please contact us via marketing@swiss-as.com.
Kevin Kruger, Director & General Manager of HAECO Hong Kong, said: "We are very pleased to reach this agreement with Swiss-AS. With the implementation of AMOS, we are able to strengthen our working practices across the company with an integrated end-to-end solution. It will enable transparency, improve quotation and billing cycles and enhance communication with our customers. We will be able to deliver better services as well as exceptional value to our customers for a sustainable future."