16.03.2022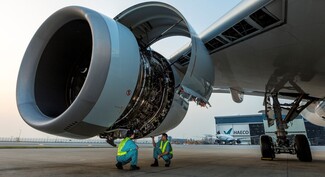 At a glance
-    HAECO Hong Kong goes live with AMOS
-    Extra-large-scale AMOS implementation project
-    Extensive collaboration to enhance AMOS MRO functionalities and integration capabilities
Swiss-AS and HAECO's cooperation to strengthen both recognised technical expertise and operational excellence
Back in spring 2019, Swiss-AS was honoured to ink a deal with HAECO Group that had selected AMOS as its preferred MRO software to be initially deployed within its Hong Kong operations base. The main objective of this large-scale implementation project was to replace the many point-to-point solutions with a fully integrated end-to-end solution.
After more than two years of implementation, Swiss-AS is proud to announce that HAECO Hong Kong, a world-class aircraft engineering service provider, has recently gone live with the AMOS MRO Edition, and now uses the MRO software to support all its maintenance processes. Today, AMOS acts as the core platform for HAECO Hong Kong employees to efficiently and productively manage the wide range of services the organisation offers, from airframe services to line maintenance, and material management.
The implementation of AMOS at the Hong Kong base is key in the group's strategy to invest in the future, optimise and grow its business, while ensuring its sustainable development that is at the core of its business model. Swiss-AS is an innovative and reliable business partner that is able to support HAECO Hong Kong's strategic developments by providing a proven, continuously enhanced and scalable IT solution as well as tailored service packages. 
 "On behalf of Swiss-AS I would like to congratulate HAECO Hong Kong on the successful cut-over to AMOS and I also thank HAECO Hong Kong for the excellent partnership in further enhancing the AMOS MRO capabilities. HAECO Hong Kong has remained highly dedicated and professional during the entire implementation project and I have no doubt that this excellent collaboration will continue into the future" states Ronald Scherer, CEO at Swiss-AS.
The two market-leading organisations, HAECO and Swiss-AS, take advantage of 100 combined years of experience to provide their customers an incomparable quality of services.
Swiss-AS proven methodology to steer extra-large-scale AMOS implementation
While Swiss-AS provides one single solution used by a large and diverse customer community, each AMOS implementation is unique and comes with its own challenges. In the case of HAECO Hong Kong, more than 4000 users will ultimately make usage of AMOSdesktop and AMOSmobile. The previously complex, interface driven processes and the extensive use of in-house mobile solutions, brought challenges to the project that, only through close collaboration, could be addressed and resulted in yet another successful AMOS implementation. Evidence that once again, Swiss-AS has the necessary experience, expertise and proven implementation approach to steer such extra-large-scale projects.
The overall project goals were achieved within 30 months thanks to Swiss-AS' collaborative working approach fostering close cooperation between the customer and Swiss-AS project team. Over this period, Swiss-AS provided comprehensive classroom trainings for all project members and key users. Additionally, a vast Train-the-Trainer program was initiated to enable HAECO Hong Kong's designated in-house trainers to receive all the necessary AMOS knowledge to deliver professional quality AMOS training to hundreds of end-users. This training model was selected from the many options offered by Swiss-AS due to its cost-effective approach that allowed the end users to benefit from a tailored knowledge transfer method delivered by internal trainers. 
In parallel to the training stream, the strong core project team, joined by several business experts, defined the new TO-BE AMOS processes according to the AMOS functionalities and APIs to be implemented. For some capabilities, extra development had been initiated by Swiss-AS R&D team in order to make the AMOS MRO Edition completely fit into HAECO's existing and complex digital eco-system. Some specific AMOS MRO program enhancements and sub-system API enablers were considered as go-live critical and their delivery with the AMOS 20.12 release allowed HAECO Hong Kong to successfully go-live with AMOS on the 6th of September 2021.
The Hong Kong based team does not intend to rest on their laurels and has already planned to move on to the next AMOS project by deploying AMOSmobile/EXEC to the line and base maintenance context to further support the Group's digital transformation process.
A strong development partnership 
AMOS is a community product used by a large customer base who continuously and actively provide Swiss-AS with their requests, ideas and individual needs. The system enhancements implemented by Swiss-AS include the expertise of customers who contribute to the selection, analysis and specification of new developments. Over the past years, Swiss-AS has partnered with several customers, whose primary business as an MRO provider is to deliver high-quality services to its customers as efficiently as possible. In this context, HAECO Hong Kong contributed to the enhancement of the MRO-focused functionalities as the initiator of system developments that are also of general interest for other MRO customers.
Creating interfaces is part of our daily business and Swiss-AS has gained vast experience when seamlessly connecting AMOS with other corporate systems. To further extend our already existing long list of available APIs, Swiss-AS and HAECO Hong Kong teamed-up to strengthen the integration of AMOS with other in-house solutions. Among others, the new APIs that were developed allow HAECO Hong Kong's in-house line maintenance mobile application to receive AMOS work package and ground time information, giving line maintenance users an improved maintenance task visibility when attending aircraft for transit and line checks.
The AMOS system architecture provides four tiers of integration: On the lowest tier, direct database access is supported and typically used to integrate with Business Intelligence, Data Analytics and Reporting tools when required. Then, on another level, each action that can be triggered through the AMOS user frontend can be used for integration purpose thanks to the current existing 28000+ internal AMOS APIs. Additionally, the 300+ managed AMOS APIs include out-of-the-box integration to third party solutions as well as general purpose APIs that use industry standards wherever possible. Finally, AMOScentral uses managed APIs as data-exchange format to easily connect AMOS environments and facilitate seamless collaboration between multiple operators, MROs and CAMOs.
Seamless AMOS work package transfer between HAECO and its customers  
Airline customers of HAECO Hong Kong that are also steering their activities with AMOS can currently profit from a generic interface to transfer, within AMOS, their work package to the MRO provider, with the airline's maintenance event being then mapped against the MRO provider's internal workorder number.
With a perpetual innovation and efficient planning driven working approach, the HAECO Hong Kong team together with one of its customers are considering AMOScentral to become the future tool to further strengthen their cooperation. The future collaborative platform would allow the AMOS customers to benefit from the seamless transfer of work package information, such as the airline's assignment of new tasks to the work package being reflected in real time into the MRO provider's AMOS environment. Additionally, the execution of tasks by the MRO provider can be reflected in the airline's AMOS environment for complete visibility of progress as required.
A customer-tailored AMOS Cloud Hosting solution
HAECO Hong Kong opted to initially rely on the AMOS Operational Services (AOS) and trusted Swiss-AS to manage all tasks related to the AMOS application server and database administration. In the course of the AMOS implementation project, HAECO Hong Kong decided to further rely on Swiss-AS' services and subscribed to the AMOS Cloud Service package that relieves the maintenance organisation from operating its technical infrastructure on premise. Moreover, the HAECO Hong Kong IT team could well identify a high level of synergy resulting from having Swiss-AS supporting the AMOS application and database failover, plus the disaster recovery solution. 
Due to its size and number of customers, HAECO Hong Kong has been offered a customised AMOS Cloud Hosting package running on the local Google Cloud and very well protected by a double security: it includes a data backup service in the Google Cloud based in Hong Kong, in addition to a disaster recovery system based in Singapore. 
Furthermore, HAECO Hong Kong is the first customer to use a PostgreSQL database in cluster mode. This means that the PostgreSQL database benefits from a high availability set up in terms of hosting. The AMOS productive server (cluster) is composed of 3 database instances: a master accepting read and write queries from AMOS, a standby, synchronized and ready-to-take-over instance in case of failover, and a third used for reporting connections.
With this infrastructure, HAECO Hong Kong can ensure that its data is not only fully protected, but that HAECO Hong Kong relies on a state-of-the-art infrastructure to successfully deliver high-quality services to its customers.
"The strategic decision on implementing a new IT solution was in line with our commitment to collaborate with our customers using digitalisation to efficiently manage and optimise the services offered by HAECO Hong Kong. We have contributed to the enhancement of AMOS with more MRO-focused capabilities in the past 30 months and are confident that the AMOS MRO Edition will be continuously enriched along the Swiss-AS direction, to make it the best fit for both airline and individual MRO.

The AMOSmobile is also an intuitive mobile solution for frontline staff, which brings enormous benefits in efficiency and data integrity, while building a strong foundation for our digitalisation journey in HAECO. We are looking forward to the deployment of this exciting solution in Hong Kong during the second half of 2022.

This successful implementation of AMOS MRO Edition would not have been possible without the excellent teamwork between the Swiss-AS and HAECO Hong Kong teams, where the dedication to delivering the best solution was exemplary. My sincere thanks go to both teams and the Swiss-AS leadership for their support." said Kevin Kruger, Director and General Manager of HAECO Hong Kong.
About HAECO Group
The HAECO Group is one of the world's leading aviation product and service providers. The Group provides a comprehensive range of products and services in Airframe, Cabin, Component, and Engine segments. The HAECO Group consists of 16 operating companies, employing around 17,000 staff in Hong Kong, the Chinese mainland, Europe, and the United States. HAECO Group's website: www.haeco.com.