15.03.2021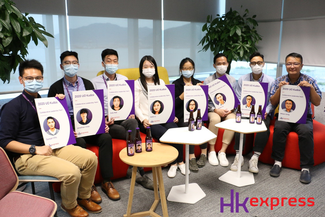 At a glance
Another fast-growing Asian LCC puts its trust in Swiss-AS
Swiss-AS to provide its flexible and scalable Cloud Hosting solution

Outstanding commitment of both project teams to achieve successful and on-time go-live
AMOS fully supports LCC's business model
A Low Cost Carrier (LCC) follows an airline business model that uses the latest technology, from the IT solutions through to it's aircraft, operating at high utilisation, to eliminate those costs that do not add to the customer experience. This enables an LCC to maintain a high level of safety whilst offering the lowest fares to the markets that it serves.The usage of AMOS takes on its full meaning in such a business model as the software allows airlines to optimise their maintenance, engineering and logistics needs while assuring their compliance with a complex system of aviation regulations.
Following an efficiency-driven working logic, the team of HK Express has evaluated and signed for AMOS within 6 months.
The Hong-Kong based airline inked a deal with Swiss-AS in January 2020 to implement the AMOS Airline Edition to manage maintenance activities of a modern fleet of 24 Airbus 320, 320neo and 321 types. HK Express placed its confidence in Swiss-AS not only as a software product provider, but also as a cloud and operational services provider by subscribing to the AMOS Cloud Hosting Solution. This option also falls into a LCC business model since it relieves airlines from the requirement to operate a technical infrastructure on premise, which is not their primary domain of expertise, and provides an attractive and effective cost alternative. AMOS Cloud Hosting Solution package comes along with the AMOS Operational Services (AOS) which covers all duties arising from the AMOS application server and database administration and have Swiss-AS taking responsibility for this broad range of tasks. Economies of scale allow Swiss-AS to provide customers the possibility to outsource the operation of AMOS at a lower cost versus training and using in-house resources, a principle that also fits the LCC business model.
AMOS Go-Live milestone achieved on schedule despite the difficult time
Thanks to its three decades of experience, Swiss-AS provides strong leadership throughout the AMOS implementation project to ensure the implementation stays on time and on budget, while fulfilling the customers' expectations. Even during this particular year, when we mainly supported HK Express offsite due to the worldwide pandemic, our working principles and our implementation methodology have proven their effectiveness. Thanks to the prompt response of the Swiss-AS Customer Services department to the contingency situation, our customer went live with AMOS only 10 months after project kick-off and within the defined time line. Achieving this important milestone on schedule was only possible thanks to the strong commitment of the project team and the (unprecedented) tremendous use of remote consulting, training and operational support services to keep the project up to speed with no interruptions.
During the month following the system go-live, and to fulfil a mandatory requirement by the local Aviation Authority, HK Express ran a parallel between AMOS and the previously used legacy system. During the parallel run, HKE QA collected evidence of the designed AMOS procedures' reliability in a productive environment – especially concerning those relevant to the Continuous Airworthiness Management – and submitted it to the Authority for their official approval for use.
The Hong Kong Civil Aviation Authority provided HKE with its final approval of AMOS data and processes on 18 December 2020, at the same time closing the parallel run with the legacy system.
Fast(-tracked) Go-Live anticipating full AMOS adoption
Due to time constraints and the peculiar support strategy adopted by HK Express, the decision has been made in view of the go-live milestone, to initially focus project activities on the implementation of AMOS features and business processes that are essential for the management of the airline's maintenance activities. Both Swiss-AS and HK Express teams have identified the next post go-live steps in terms of increased AMOS adoption and related business development. The HK Express team is now looking forward to expanding its adoption of AMOS to allow the airline to reap all of the benefits of a proven, comprehensive, and future-proof system. The AMOS adoption expansion plan started immediately in November, and is ongoing with the continued support of the Swiss-AS APAC team.
 "Already from the selection process, the HK Express team showed a tremendous commitment and professionalism" notes Pierluigi Calù, Head of the AMOS APAC outstation located in Singapore. He continues "The extremely tight implementation timeline required even closer cooperation, and both companies worked as a single team. HK Express was the first AMOS customer to receive our "Virtual Instructor Lead Training" and our first Asian airline to have a 100% remote Golive support from Singapore. With the forecasted fleet growth of more than 30 additional aircraft, welcoming HK Express to the AMOS community will strengthen AMOS' position in Hong Kong and East Asia. We are excited to help another successful airline in achieving its challenging growth plans!".
"It has been a very challenging project from the start, with the AMOS team we overcome many difficulties and together we achieved a successful launch within a year. Amazing result indeed and HK Express will continue to maximise the potential of AMOS."Said Mr.Alan Tang, General Manager of Maintenance and Engineering Department, HK Express.
About Hong Kong Express Airways
HK Express is Hong Kong's only low-cost carrier (LCC). With its first flight on 27 October 2013, HK Express has added many new destinations to its route portfolio. HK Express offers convenient and reliable air travel to destinations around Asia, including many top cities. HK Express currently operates a fleet of modern Airbus A320, A320-neo, and A321 aircraft. As the list of destinations increases, HK Express' fleet continues to expand. To match the overwhelming demand for new destinations and more flights throughout their existing network, HK Express has been constantly hiring new staff to strengthen their service.
About Swiss AviationSoftware and AMOS
AMOS is a comprehensive, fully-integrated MRO software solution being developed and distributed by Swiss AviationSoftware. Swiss-AS, a 100% subsidiary of Swiss International Air Lines, has more than 190 customers worldwide and belongs to the industry-leading MRO software providers. Our loyal customer base includes pure operators of all sizes, major low-cost, regional and flag carriers, large airline groups, and MRO providers. In the Americas and Asia, AMOS is distributed through a partnership with Lufthansa Systems.