24.04.2023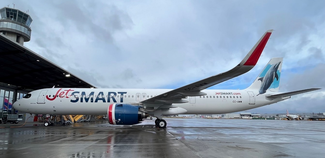 At a glance
- JetSMART live with AMOS Airline edition, including AMOSmobile/EXEC 

- Argentina and Peru subsidiaries' operations also running in AMOS

- AMOS hosted on Google Cloud with a noVPN setup successfully deployed 
Swiss-AS is very proud to welcome a new member in the AMOS customer community: The Chilean airline JetSMART is now live with AMOS.
Multi-Operator benefits 
As an ultra-low-cost company – "Lowest cost Wins!"  being one of their mottos – JetSMART outsource most of their operation (including CAMO and maintenance) as part of their ULC strategy. To fulfil their business strategy of ultra-low-cost, AMOS has been recognized as an all-round solution that will support JetSMART to optimize their costs while keeping their rapidly growing fleet of 23 new aircraft, composed of A320 NEOs and CEOs, at the highest safety standards. Although their main base of operation is in Chile, they also have operations in Argentina and in Peru. A key benefit for JetSMART is the multi-operator maintenance program capabilities of AMOS, as all three operators access the same database, while this one source of data will facilitate the communication and collaboration of the three different operators.
Project scope
The initial go-live targeted the Peru operations, followed with Argentina's and Chile's operation running in AMOS from the end of February and beginning of March respectively. After a kick-off in June 2022, the project team focused on core business processes allowing JetSMART to manage their planning, maintenance, engineering and procurement needs in AMOS after a 7-month implementation project. 
Thanks to the big efforts from the JetSMART staff in close cooperation with the Aircraft Engineering Services team from Lufthansa Technik, which after go-live takes over CAMO services for JetSMART, Swiss-AS managed to migrate the full set of data that will allow JetSMART to smoothly operate AMOS.
As part of the AMOS Airline Edition, core APIs like Transfer Executed Flights and Transfer Workorder have already been implemented, allowing AMOS to receive flights and export deferred items to JetSMART systems and dashboards. With AMOS, JetSMART now owns and controls their data and can grow the interoperability of AMOS within the ecosystem of JetSMART. The complete data integration provided by AMOS allows JetSMART to have a complete, up to date, and real time forecast of maintenance events. 
AMOSmobile/EXEC will also be part of the project scope for future implementations following GoLive, allowing JetSMART to save on costs and paper thanks to optimized mobile processes. 
We are pleased that once again, the cooperation between the Engineering Services team from Lufthansa Technik and Swiss-AS has proven to create and will continue to create added value in this business context as well as with other common customers. The biggest part of the project was performed remotely, integrating a highly diverse team of people working in different time zones including Germany, Miami, Argentina, and Peru. There will be continuous support provided to JetSMART in the post-go-live phase to allow JetSMART to increase their adoption of AMOS (after having initially focused on the core processes) and to exhaust the full potential of AMOS.
Hosting on Google Cloud deployed with noVPN
In addition to the standard set-up, JetSMART have opted for Swiss-AS providing cloud hosting services with a noVPN solution. JetSMART is the very first customer of Swiss-AS to successfully go live with a noVPN solution, allowing JetSMART AMOS users to connect to AMOS from anywhere with a reverse Proxy. This is part of a hybrid solution, in which they also have the possibility of connecting to their cloud with a VPN as a backup. No changes were required on the JetSMART side to use the noVPN access. Since noVPN has been deployed, users are experiencing a huge improvement in latency which causes AMOS to feel fast and responsive. This solution also enables fast deployment of AMOS to end- users' clients (only a zip containing the AMOS client). 
"Our cooperation with Swiss-AS during the implementation of AMOS was excellentbecause they have understood our ULCC business model and have worked like a key partner in this project that will allow JetSMART to increase the efficiency of the engineering and maintenance organization by using state of the art technology", commented Estuardo Ortiz, CEO of JetSMART Airlines. 
About JetSMART:
Founded in 2016, JetSMART Airlines is a South American ultra-low-cost carrier created by US private investment fund Indigo Partners, which also controls low-cost carriers like US airline Frontier Airlines, Mexico's Volaris and Hungary's Wizz Air. JetSMART's primary base of operations is Arturo Merino Benítez International Airport, servicing Santiago, Chile. It also owns and manages JetSMART Argentina, an Argentine subsidiary with a base at Aeroparque Jorge Newbery in Buenos Aires. The airline commenced scheduled operations on 25 July 2017 with a service from Santiago to Calama, made possible by CEO and founder Estuardo Ortiz Porras. It now has domestic operations in Chile, Argentina, and Peru, and 79 routes throughout South America with services to Brazil, Colombia, Paraguay, and Uruguay, and has carried more than 19 million passengers.
About Swiss AviationSoftware and AMOS
Swiss-AS is an industry leading M&E/MRO software provider that offers an end-to-end integrated, highly intelligent software suite, designed to cover the entire spectrum of maintenance activities. AMOS, in combination with its mobile package, empowers its large and loyal aviation customer base – ranging from pure operators of all sizes, over major low-cost airlines, flag carriers, and large airline groups to MRO providers – to digitalise and automate their maintenance processes and connect with other industry solutions via the connectivity platform AMOScentral. For more information, please contact marketing@swiss-as.com.