05.01.2018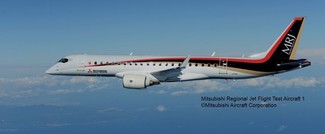 At a glance
Mitsubishi selected AMOS for MRJ certification
First use of AMOS for pre-production aircraft
High configurability of AMOS key
AMOS selected by Mitsubishi Aircraft Corporation
Swiss-AS and its Miami based AMOS Business Unit within Lufthansa Systems are delighted to announce that Mitsubishi Aircraft Corporation has selected AMOS (Aircraft Maintenance and Engineering System) to support the certification process for its new MRJ90  Regional Jet.
"We are very proud that Mitsubishi Aircraft Corporation could see that AMOS can help manage the critical certification process for their new regional jet," states Ronald Schaeuffele, CEO of Swiss-AS.
Unique use of AMOS for MRJ90 for Flight Testing
Although AMOS has been developed for airline maintenance departments and MRO companies, the high configurability of the system means that it can be configured to manage the unique pre-production certification requirements.
AMOS will be used to manage and support the flight-testing process in the U.S. taking place at the Moses Lake flight test centre.
With the implementation of AMOS at Mitsubishi Aircraft Corporation the company expects to further streamline their flight testing and certification process of the MRJ90 helping to bring this next generation aircraft into operation as efficiently as possible.   
About Mitsubishi Aircraft Corporation
Mitsubishi Aircraft Corporation commenced operation on April 1, 2008 to conduct the design, type certification, sales & marketing and customer support for the Mitsubishi Regional Jet (MRJ). The MRJ is a family of 70- to 90-seat next-generation regional jets that will offer both top-class operational economy and outstanding cabin comfort. Mitsubishi Aircraft Corporation is capitalized at 100 billion yen, with financing furnished by, among others, Mitsubishi Heavy Industries, Ltd., Toyota Motor Corporation, Mitsubishi Corporation, Sumitomo Corporation and Mitsui & Co., Ltd.
About Swiss AviationSoftware and AMOS
AMOS is a comprehensive, fully-integrated MRO software solution being developed and distributed by Swiss AviationSoftware. The software is purely dedicated to aviation and allows the users to successfully manage their maintenance, engineering and logistics needs and to assure their compliance with a complex system of aviation regulations. Swiss-AS, a 100% subsidiary of Swiss International Air Lines has more than 160 customers worldwide and belongs to the industry-leading MRO software providers. Our loyal customer base includes pure operators of all sizes, major low-cost, regional and flag carriers, large airline groups and MRO providers. In the Americas and in Asia, AMOS is distributed through a partnership with Lufthansa Systems. For more information, please contact us via marketing@swiss-as.com.
"Implementing and configuring AMOS to flight testing of the Mitsubishi Regional Jet will allow us to streamline our flight testing process. We are greatly looking forward to our partnership with Swiss AviationSoftware and integrating AMOS into our program," states Hitoshi Iwasa, Head of Moses Lake Flight Test Center.