31.01.2022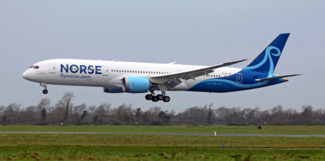 At a glance
-    AMOS Airline Edition to support single-type fleet of 15 B787
-    Early trust in AMOS to achieve AOC
-    AMOSmobile/EXEC and cloud-hosting services selected
Norse puts early confidence in AMOS
After a five-month selection process, Norse Atlantic Airways, a new low-fare long-haul airline based in Norway, has decided for AMOS in autumn 2021. The evaluation of a maintenance and engineering software was part of Norse's business fundamentals and they started their discussions with Swiss-AS very early in their start-up phase, putting their confidence and trust in Swiss-AS that AMOS will support them in getting their brand new airline off the ground
The very lean project is already well underway and the Swiss-AS project team is assisting Norse in setting up their processes. The aim is to adopt what has emerged as "best practice" as a result of the experience of more than 190 preceding successful AMOS implementations. The Swiss-AS project team is now pressing ahead to complete the data transfer for Norse.
Norse Atlantic Airways' goal is to manage a single-type fleet of all B787 aircraft in AMOS. The go-live –will include the full range of AMOS Airline modules and will enable Norse to exploit the advanced functionality for which AMOS is highly valued by its loyal customer base.
The first flights are expected to take off in spring of 2022.
"AMOS will provide us with a state-of-the-art airworthiness management system that will ensure an efficient and more sustainable operation. The digital and paperless system will enable Norse to operate according to the highest safety standards as well as ensuring on-time performance and a lower carbon footprint," said Chief Operating Officer of Norse, Thom-Arne Norheim.  
Optimising value by opting for AMOSmobile/EXEC and cloud hosting
Norse has decided for the touch-optimised add-on AMOSmobile/EXEC with the objective to build their paperless line and base maintenance processes within AMOS, digitise their business and add value not only in terms of costs, but also in terms of time, thereby ensuring high productivity whilst maintaining quality, safety and consistency. When deploying AMOSmobile/EXEC, the paperless processes add additional value to the business as technicians no longer need to return to a workstation during their shift to record their actions, raise findings and receive notifications of work assignments.
By choosing the cloud-based option including the proven AMOS Operation Services, Norse – as a start-up airline – will furthermore profit from an attractive and cost effective service, as they do not have to operate and maintain their own technical infrastructure. In addition, Norse benefits from a flexible set-up that can be easily adapted to the company's future needs.
About Norse
Norse Atlantic Airways is a new airline that will offer affordable fares on long-haul flights, primarily between Europe and the United States. The company was founded by CEO and major shareholder Bjørn Tore Larsen in March 2021. Norse has a fleet of 15 modern, fuel-efficient and more environmentally friendly Boeing 787 Dreamliners that will serve destinations including New York, Florida, Paris, London and Oslo, among others. First flights are expected to take off in spring 2022.
About Swiss AviationSoftware and AMOS
AMOS is a comprehensive, fully-integrated MRO software solution being developed and distributed by Swiss AviationSoftware. Swiss-AS, a 100% subsidiary of Swiss International Air Lines has more than 190 customers worldwide and belongs to the industry-leading MRO software providers. Our loyal customer base includes pure operators of all sizes, major low-cost, regional and flag carriers, large airline groups and MRO providers. In the Americas and in Asia, AMOS is distributed through a partnership with Lufthansa Systems.