27.05.2019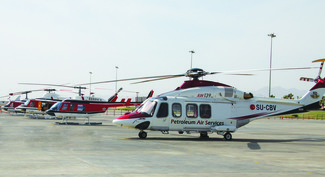 At a glance
Another helicopter / FW operator joins the AMOS Community
PAS relies on Swiss-AS cloud hosting package
350 new AMOS users
AMOS – a flexible and future-proof decision
Swiss-AS is pleased to announce that Petroleum Air Services (PAS) and Swiss-AS have signed agreements regarding the purchase and implementation of AMOS.
PAS was searching the market for a fully integrated turnkey solution that provides the option to adapt to new requirements without changes to the source code.
After a swift and efficient evaluation of the MRO software available on the market, PAS reached the conclusion that AMOS provided the best-fit solution for their requirements
 
AMOS will be implemented without any customer specific changes and PAS can rely on a proven software that reflects industry-best-practices and allows managing both their aircraft and helicopters within one single system. When selecting AMOS customers also obtain a comprehensive maintenance agreement that guarantees two major releases per year. This assurance proved to be one key factor in convincing PAS that AMOS was indeed the future-proof solution they were looking for.
AMOS features for helicopter maintenance
AMOS has been supporting helicopter operators right from the beginning, when the Swiss Air-Rescue (= Rega) signed for AMOS in 1992. Over the years, the percentage of helicopters maintained within the AMOS Community has constantly increased and, as a result, the rotor wing dedicated functionalities have been expanded accordingly. Swiss-AS is pleased to offer its expertise to support the dynamic helicopter industry and cater to their specific needs. AMOS incorporates globally integrated supply chain management of spares and health monitoring of vibration characteristics of the airframe and rotating components. In addition to the many AMOS interfaces available, the utilisation of the flight schedule interfaces, along with mission configuration, enables precise monitoring of operating times and parameter exceedance. The combination of all these features allows AMOS to support the industry-wide requirements for dynamic control to maintain the safety of helicopters.
Furthermore, AMOS offers an extensive counter management program to track equipment and components with standard or individualised counters, dimensions and penalties.
Cloud hosting package
The Egyptian aviation company has also signed for the Swiss-AS hosting package, a combination of the proven AMOS Operation Services (AOS), covering the application and database administration and cloud hosting (Google Cloud Platform). The AMOS environments will be easily accessible for PAS from all their operation bases via secured VPN connections. By signing for the hosting services, PAS is relieved of the requirement to operate a technical infrastructure on premises and can rely on a high level of operation in compliance with the latest IT and security standards.
"With the PAS decision to go for AMOS, the number of rotor wing operators among the AMOS Community is increasing and this demonstrates the capability of AMOS. With only one software, our customers are in the position to manage a mixed fixed wing and rotor wing fleet," states Ronald Schaeuffele, CEO of Swiss-AS.
About Petroleum Air Services (PAS)
Petroleum Air Services is an Egyptian joint stock company established in 1983. The company provides air transportation services inside and outside Egypt, using 30+ helicopters of different types (Bell, Leonardo and Airbus helicopter) and seven F/W (DCH-8 and CRJ900). PAS' business scope is to support Oil & Gas companies in transporting individuals and equipment, air taxi services and scheduled / unscheduled (charter) flights and electrical Cable Insulating Wash.
In addition, the company performs aircraft & aircraft components maintenance, overhaul & repair for its own aircraft and third parties.
About Swiss AviationSoftware and AMOS
AMOS is a comprehensive, fully-integrated MRO software solution being developed and distributed by Swiss AviationSoftware. Swiss-AS, a 100% subsidiary of Swiss International Air Lines, has more than 180 customers worldwide and belongs to the industry-leading MRO software providers. Our loyal customer base includes pure operators of all sizes, major low-cost, regional and flag carriers, large airline groups and MRO providers. In the Americas and in Asia, AMOS is distributed through a partnership with Lufthansa Systems. For more information, please contact us via marketing@swiss-as.com.
"After years of using in-house developed software and point-to-point solutions, in July 2017 Petroleum Air Services (= PAS) decided to implement a new system for managing the maintenance and technical tasks that could no longer be postponed. It was necessary to look at the market offering many products that had already been successfully tested and implemented by many Operators and MRO providers. From the beginning, AMOS was at the top of our list because some PAS employees already used AMOS in previous work environments in Egypt. After a very diligent and in-depth selection process, we considered AMOS as the most comprehensive, fully integrated software package that could successfully meet the maintenance, airworthiness and logistics requirements of PAS. In addition, the large number and diversity of customers from all over the world convinced us that AMOS is fit for any environment, regardless of size or geographical origin. The main differentiators that make AMOS stand out from its competitors are the system's high degree of integration and functional depth, both coupled with ease of use. Moreover, unlike other software providers, Swiss-AS offered to us a full package of services including process analysis, training, data migration, interface programming, etc. to ensure a successful implementation of AMOS," stated by  Hatem Radwan, Hel. Technical Support Department GM of PAS.