19.12.2016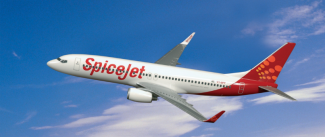 At a glance
-    Expansion of the AMOS footprint in India
-    Efficient ramp up for a swift start to the project
-    600 new AMOS users
-    Impressive fleet increase plans
Swiss-AS welcomes another low cost carrier
Swiss-AS today announced a new business relationship with SpiceJet, one of India's leading low cost airlines, regarding the Swiss Aircraft Maintenance & Engineering System AMOS. AMOS will be rolled out and used by over 600 employees in the Technical department of the airline. Some members of the SpiceJet technical department staff are already familiar with AMOS, which helped the airline not only during the evaluation phase, but will also be beneficial in the future implementation process.
"India has become a strategic market for us and, with SpiceJet on board, we are proud to continue this Indian story of success," stated Ronald Schaeuffele, CEO of Swiss-AS.
AMOS will support the SpiceJet growth strategy
SpiceJet is excited to start the AMOS project and the airline foresees a short implementation period to benefit from best practice processes with the introduction of this software. The underlying strategy to introduce AMOS aligns perfectly with the expected fleet growth at SpiceJet to support efficiency gains and improved cost control measures. SpiceJet will double the current fleet with the 55 B737 MAX aircraft on order. For the carrier, implementing a new MRO software during this challenging phase will bring efficiency benefits and allow the existing and new aircraft to be directly monitored and maintained in AMOS. Experience has proven, via the numerous low cost carriers already members of the AMOS customer community, that expansive fleet growth projects have been successfully and economically managed using optimized fleet management processes.
About SpiceJet
"SpiceJet is India's favourite budget airline that has made flying more affordable for more Indians than ever before. SpiceJet operates 342 average daily flights to 45 destinations, including 39 domestic and 6 international ones. SpiceJet connects its network with a fleet of 31 Boeing 737NG and 17 Bombardier Q-400s. The majority of SpiceJet's fleet offers SpiceMAX, the most spacious economy class seating in India and perhaps the world, as an additional fee option." (stated by SpiceJet)
About Swiss AviationSoftware and AMOS
AMOS is a comprehensive, fully-integrated MRO software solution being developed and distributed by Swiss AviationSoftware. Swiss-AS, a 100% subsidiary of Swiss International Air Lines has more than 140 customers worldwide and belongs to the industry-leading MRO software providers. Our loyal customer base includes pure operators of all sizes, major low-cost, regional and flag carriers, large airline groups and MRO providers. In the Americas and in Asia, AMOS is distributed through a partnership with Lufthansa Systems. For more information, please contact us via marketing@swiss-as.com.    
SpiceJet's Head of Engineering, Arun Kashyap said, "We look forward to this association with Swiss AviationSoftware. We believe that this is the right time for us to introduce AMOS into our system as we move towards stabilising our fleet and are also looking forward to fleet expansion. AMOS will not only help us in providing information for maximising resource utilisation but also increase efficiencies in managing aircraft and its components".