11.05.2023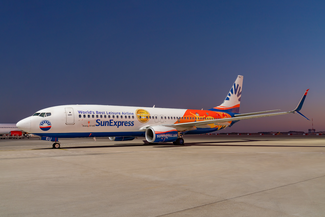 At a glance
- SunExpress live with AMOS MRO edition

- Experienced key users and project managers for a smooth and well-rounded implementation 

- Digitalisation objectives to be realised utilising the AMOSmobile suite, e-signature, AMOSeTL and other integrations
Swiss-AS is very proud to finally share the news: we entered 2023 with a Go-live at Sun Express in Antalya, Türkiye.
With AMOS up and running, SunExpress' latest digitalisation project, named "Paperless Aircraft Maintenance Operations" is fully operational. SunExpress intends to save 1 million pieces of paper annually through this project, which was initiated in 2019 to eliminate paper-based processes in their aircraft maintenance. Swiss-AS was selected as the partner of choice to provide the most suitable solutions to help them reach their objectives with AMOS awarded as their maintenance engineering software.
24-month project coming to fruition
The cooperation between Swiss-AS and SunExpress started in February 2020 with the kick-off meeting and a couple of training sessions. Unfortunately, COVID started at this time, and the project was officially frozen for several months. Since the restart of the project in 2021, SunExpress has been implementing a large-scale scope without the need for extensive project management and business consulting support from Swiss-AS, thanks to having experienced Key Users and Project Managers with previous AMOS experience. 
After 2 years, the project successfully went live on the night of December 31st, starting the new year off in the right way, and SunExpress successfully started to use tablets for aircraft maintenance operations, fully digitally without the use of paper.
Wide scope of AMOS usage to support digital transformation objectives
Besides integration with existing flight and finance systems, SunExpress decided for a large scope of add-on modules, including the full AMOSmobile suite (consisting of AMOSmobile/EXEC and AMOSmobile/STORES), as well as e-signature, becoming the first approved airline in Türkiye to go "paperless". The e-jobcards are created and completed right from AMOS and allows the e-signature to be completed through PDF Overlay. This process allows the record keeping remaining entirely digital. 
This provides the mechanics with direct access to the aircraft information on mobile devices through AMOSmobile/EXEC. The use of tablets enables a boost in the mechanics' productivity by allowing more efficient transits and exchanges between mechanics and back-office during all Line and Base Maintenance activities, saving tons of paper usually created in the process of documenting all maintenance steps.
Including AMOSmobile/STORES in their scope of usage will allow SunExpress to focus on priorities when it comes to the operation of their stores, increase their cost efficiency by lowering losses due to surplus inventory and enhance process efficiency while taking in all the benefits from mobility. This is currently still in the testing phase at SunExpress maintenance stations.
SunExpress to have joined AMOSeTL development team
We are also thrilled to welcome SunExpress as the newest addition to the development team of the AMOSeTL (AMOS electronic TechLog) project.
Alongside Condor, Luxair, Malaysia Airlines, El Al, Sideral, Cebu Pacific and three undisclosed participants, SunExpress becomes the latest airline to join this strategic partnership. From the end of September already, SunExpress took part in the definition workshops supporting the development and testing of the mechanic mode of AMOSeTL and will take part in the inflight testing phase that started at the end of 2022. Its large fleet of aircraft will be an interesting playground for testing and defining the accurate processes to be managed in AMOSeTL to make it as efficient as can be.
SunExpress' participation in the AMOSeTL project marks the last part of their "Paperless Aircraft Maintenance Operations Project", as it will ultimately replace the paper-based Technical Log System. AMOSeTL will optimise logbook data management, reduce A/C weight, eliminate paper log expenses, decrease transcription and data handling errors, and enable airlines to ensure that A/C data are more accurate and available in real-time wherever it is needed. SunExpress signed an agreement with Swiss-AS to use the AMOSeTL software, which is fully integrated with AMOS, after its release.
SunExpress is the first airline to implement paperless aircraft maintenance in Türkiye and among one of the few airlines worldwide. SunExpress is constantly improving its processes for greater efficiency and sustainability, and Swiss-AS is proud to support them in this objective.
About SunExpress:
Established in Antalya in 1989 as a joint venture of Turkish Airlines and Lufthansa, SunExpress acts as a tourism ambassador between Türkiye and Europe with its 30 years of experience and leisure airline expertise. SunExpress flies to more than 175 destinations in 30 countries and carries more than 10 million passengers every year. With its headquarters in Antalya and Frankfurt and bases in Izmir and Ankara, SunExpress has more than 3500 employees and a fleet of 66 aircraft. SunExpress named the 'World's Best Leisure Airline' in the latest global survey by Skytrax. You may find detailed information about SunExpress at www.SunExpress.com.
About Swiss AviationSoftware and AMOS
Swiss-AS is an industry leading M&E/MRO software provider that offers an end-to-end integrated, highly intelligent software suite, designed to cover the entire spectrum of maintenance activities. AMOS, in combination with its mobile package, empowers its large and loyal aviation customer base – ranging from pure operators of all sizes, over major low-cost airlines, flag carriers, and large airline groups to MRO providers – to digitalise and automate their maintenance processes and connect with other industry solutions via the connectivity platform AMOScentral. For more information, please contact marketing@swiss-as.com.