30.10.2019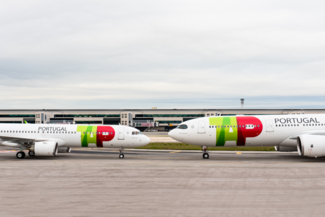 At a glance
AMOS MRO Edition to be deployed at TAP airline and TAP M&E
AMOS was put to the acid test by TAP prior to the selection being made
AMOSmobile to be rolled-out
AMOS (re-)confirmed as best-fit after in-depth evaluation
Another big flag carrier together with its 1900-workforce M&E organisation selects AMOS. Swiss-AS is pleased to announce that the Portuguese flag carrier TAP together with TAP Maintenance & Engineering has just inked agreements with Swiss-AS to manage in future the company-wide fleet maintenance activities with AMOS.
During the in-depth evaluation phase, all details of AMOS were extensively analysed and questioned by TAP in order to make sure that it is the best fit for the airline as well as the M&E unit. Customer visits were organised, tender documents were exchanged and several workshops had taken place before the decision was finally taken. Portugalia Airlines (PGA) next door, being a subsidiary of TAP and using AMOS since 2012, allowed TAP the unique opportunity to see AMOS live in production and benefit from PGA's long-term experience with AMOS and Swiss-AS.
AMOS paving the way into a digital future
"It is of course with great pleasure to see AMOS being now implemented at TAP, a renowned airline with a long company history and its M&E organisation offering a wide and deep spectrum of maintenance activities. AMOS will be the right tool in place to accelerate, via the introduction of paperless maintenance processes, TAP Maintenance & Engineering digital transformation process while introducing new technologies, automated processes and digitized data," states Ronald Schaeuffele, CEO of Swiss-AS.
"After TAP's privatization, digital transformation in the Company became a priority as a way to support new processes, increase the speed of multiple transactions, improve communication, all this to increase efficiency and productivity. Maintenance and Engineering faces the same challenges and so the decision was made to look for a solution that could replace most of our legacy systems developed in-house. It was a lengthy process where we took the time to understand the different options in the market but also how other Airlines and MRO's with similar operations experienced the implementation of such products. In the end we concluded that AMOS is the solution that better fit our needs not only now but for the future. It was a tough and sometimes frustrating process involving a lot of people not only from Maintenance and Engineering but other areas in TAP. Though we believe we ran a solid procurement process the real challenge starts now. Along the next couple of years we'll face for sure some obstacles but I believe we're ready and that AMOS will strongly support our continued success.", considers TAP's Chief Technical Officer.
By choosing the AMOS MRO Edition including AMOSmobile and relying on the Swiss-AS Cloud Hosting solution, TAP will take advantage of the latest features and services offered by Swiss-AS. In the future, AMOScentral may well become a cornerstone for TAP to facilitate easy and safe communication and data exchange between TAP, its subsidiary Portugalia Airlines and beyond.
Thanks to its international workforce, Swiss-AS is in the fortunate position to staff the project team with Portuguese-speaking members. Besides the project manager, we can also provide trainers, developers and business analysts who will support the TAP project team without a language barrier.
About TAP (Transportes Aéreos Portugueses)
TAP is the flag carrier of Portugal, being headquartered at the airport in Lisbon. The airline serves more than 90 destinations in 36 countries with an Airbus fleet (A330, A340, A320 family) for long and medium-haul trips, and Embraer 190/195 and ATR72 aircraft for the closer destinations.
TAP Maintenance & Engineering, the technical unit of TAP, provides maintenance to its own TAP aircraft as well as to 3rd parties. The services performed include aircraft maintenance for Airbus, Engine & Components Repair and Overhaul, CAMO and Engineering Services, Technical Laboratories and Training.
In 2016, TAP laid the foundations for a new era of investment and renovation, which includes a massive fleet increase with 71 new aircraft by 2025.                               
About Swiss AviationSoftware and AMOS
AMOS is a comprehensive, fully-integrated MRO software solution being developed and distributed by Swiss AviationSoftware. Swiss-AS, a 100% subsidiary of Swiss International Air Lines, has more than 180 customers worldwide, has in 2019 grown its workforce by 30% and is an industry-leading MRO software provider. Our loyal customer base includes pure operators of all sizes, major low-cost, regional and flag carriers, large airline groups and MRO providers. As the vendor of a community product, we follow a customer-driven development approach. We continuously work on the further development of AMOS and listen to the needs of the large AMOS community while nevertheless always keeping an eye on market trends/requirements in order to ensure the competitiveness and longevity of our product.  In the Americas and in Asia, AMOS is distributed through a partnership with Lufthansa Systems. For more information, please contact us via marketing@swiss-as.com.