03.07.2018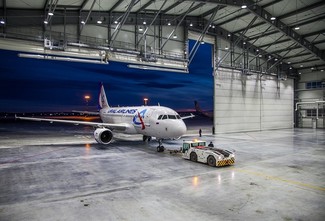 At a glance
AMOS Airline/MRO Edition chosen
8th Russian customer joining the AMOS Community
Ural Airlines staff highly motivated to roll-out AMOS
Swiss-AS is pleased to announce that Ural Airlines has selected AMOS to replace its M&E legacy system.
This decision strengthens the AMOS footprint in Russia as Ural Airlines becomes the 8th Russian aviation organisation to choose AMOS in this significant market for Swiss-AS.
"We are honored about Ural Airlines' decision to go for AMOS, which demonstrates our constant commitment to the Russian market. By implementing AMOS, Ural Airlines' manpower can be redistributed to focus on more advanced and complex innovation and digitalization projects rather than taking care of an outdated legacy system embedded in a fragmented MRO-IT landscape", states Ronald Schaeuffele, CEO of Swiss-AS.
Ural Airlines has opted for the AMOS Airline/MRO Edition, which perfectly fits the business context: Ural Airlines will manage with AMOS their own maintenance requirements as an airline while also performing considerable 3rd party maintenance activities. The Airline/MRO Edition will bring increased efficiency to Ural Airlines by providing the tools necessary to accurately manage the planning and execution of aircraft maintenance.
With AMOS being a community product, the standard software AMOS can be adjusted to the individual needs of the airline via hundreds of parameter settings options. The objective is to implement AMOS "as-is", since the software contains the input of a large and active AMOS community and reflects customer requirements and state-of-the-art processes. This approach is the best way to ensure that the implementation will be hitting key targets: A smooth implementation within time and budget.
The project team of Ural Airlines is highly motivated and eager to a roll-out the Swiss M&E software to the 350 designated AMOS users as soon as possible.
About Ural Airlines
Ural Airlines is a Russian airline that operates out of Koltsovo International Airport, Ekaterinburg. With its fleet of 45 aircraft of the A320 family, the airline serves a Russian and international network.
The airline's technical department performs extensive aircraft maintenance, reaching from Line and Component Maintenance to Non-destructive testing up to Base Maintenance (up to D checks).
About Swiss AviationSoftware and AMOS
AMOS is a comprehensive, fully-integrated MRO software solution being developed and distributed by Swiss AviationSoftware. Swiss-AS, a 100% subsidiary of Swiss International Air Lines, has more than 160 customers worldwide and belongs to the industry-leading MRO software providers. Our loyal customer base includes pure operators of all sizes, major low-cost, regional and flag carriers, large airline groups and MRO providers. In the Americas and in Asia, AMOS is distributed through a partnership with Lufthansa Systems. For more information, please contact us via marketing@swiss-as.com.
"We are a modern dynamically developing Russian airline and we choose only best partners in all spheres which may help us to reach new levels. AMOS is the best IT solution for an airline having its own MRO and we are sure that with its help we will become more efficient. Starting from next year we will begin to operate brand new Airbus A320 and A321 NEO as well as Boeing 737-8 MAX, so for us it is the right time to start our partnership with Swiss-AS," states Igor Poddubniy, Technical Director of Ural Airlines.