20.11.2019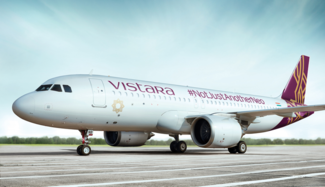 At a glance
Indian full-service carrier Vistara selects AMOS as prime MRO Software Solution
The AMOS footprint in India further increased
As an end-to-end MRO solution AMOS will assist Vistara in achieving their growth plans
Custom-tailored, two-phase implementation
Swiss-AS is pleased to announce that Vistara, a joint venture of TATA and Singapore Airlines, has selected AMOS as their end-to-end MRO software solution for its entire fleet of Airbus and Boeing aircraft. The airline recently inaugurated its international operations and aims to expand into geographies across the world as it inducts new aircraft from Airbus as well as Boeing. The state-of-the-art AMOS software solution supports their ambitious growth plans.
Vistara's newly phased-in Boeing B737-800NG aircraft will be directly managed in AMOS. This project has a very special, non-standard set-up in order to efficiently support the airline's requirements. The implementation will be split into two main phases: Phase one will focus on the B737 fleet into AMOS with a planned go-live as early as autumn 2019. The next phase foresees the transfer of the complete fleet including Airbus and future Boeing 787 Dreamliner into AMOS.  
In-house AMOS experience expediting the implementation process
Ronald Schaeuffele, CEO of Swiss-AS, says, "Vistara is a strategic, high-profile customer for us and we are honored to welcome them to the AMOS Community. India is a very important market for Swiss-AS ever since the first Indian customer signed for AMOS in the nineties and now, with Vistara on board, we further increase our footprint in India."
Vistara has succeeded in hiring engineering and maintenance staff who are already familiar with AMOS. This in-house AMOS know-how will help Vistara accelerate the implementation and reduce the time devoted to training and the general familiarization process regarding AMOS. In addition, Vistara has skilled in-house resources able to manage the data migration process. This will facilitate the data upload of the newly arrived B737-800NG aircraft into AMOS.  
With the selection of AMOS, Vistara will use a future-proof M&E software that ensures operational efficiencies in all maintenance areas and allows the airline to launch its digital transformation process.
Ravinder Pal Singh, Chief Information & Innovation Officer, Vistara, says, "We have always embraced and invested in meaningful technologies that enable our growth plan and enhance differentiation for Vistara. We're committed to our approach of digitalization of processes and lead innovation in Indian aviation. Our investment in AMOS will help us gain insights into our fleet's engineering health, enhance productivity of resources and aircraft with greater mobility and information on fingertips. Overall, it will also be a key platform for continuous innovation in maintenance and overhaul of aircraft and its supply-chain."
Sisira Kanta Dash, Senior Vice President – Engineering, Vistara, said, "AMOS will integrate our maintenance processes and provide us with the required commercial and operational flexibility across the fleet. We want to create a futurist engineering division of Vistara and this is one of the key steps in that direction."
About Vistara (Tata SIA Airlines Limited)
Vistara is a joint venture between Tata Sons Limited and Singapore Airlines Limited (SIA) with Tata Sons holding the majority stake of 51% in the company and SIA holding the remaining 49%. Vistara brings together Tata's and SIA's legendary hospitality and renowned service excellence to offer the finest full-service flying experience in India. Vistara commenced its commercial operations on January 9, 2015 with an aim to set new standards in the aviation industry in India and it today connects destinations across the length and breadth of the country. The airline connects 34 destinations operates over 200 flights a day served by a fleet of 26 Airbus A320 and 9 Boeing 737-800NG aircraft, and has flown more than 18 million customers since starting operations in 2015.                            
About Swiss AviationSoftware and AMOS
AMOS is a comprehensive, fully-integrated MRO software solution being developed and distributed by Swiss AviationSoftware. Swiss-AS, a 100% subsidiary of Swiss International Air Lines has more than 180 customers worldwide and belongs to the industry-leading MRO software providers. Our loyal customer base includes pure operators of all sizes, major low-cost, regional and flag carriers, large airline groups and MRO providers. In the Americas and in Asia, AMOS is represented through a partnership with Lufthansa Systems. For more information, please contact us via marketing@swiss-as.com.