08.05.2018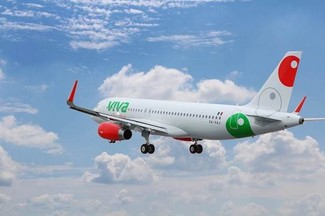 At a glance
AMOS to support the airline's growth plans
Strong footprint of AMOS in Mexico and among Low Cost Carriers worldwide
Swiss-AS is pleased to announce that the leading Mexican Low-Cost Carrier Viva Aerobus has selected AMOS to replace its legacy system.
The airline was searching the market for a cost effective, user friendly and automated business management solution that provides for scalability, easy interfacing possibilities, stability and a high degree of optimization by using state-of-the-art technology and AMOS fit the bill.  
The software evaluation took place in the context of Viva Aerobus' strategy to become customer-centric plus offering competitive prices in the Mexican market. This initiative also included the modernization of the airline's IT systems and the Mexican carrier decided in favour of AMOS as the functional depth as well as Swiss-AS' implementation concept was convincing. The evaluation team understood that AMOS can support them to further reduce cost in aircraft maintenance and many examples from the AMOS Community have shown that AMOS is the right choice when it comes to extensive fleet growth. Swiss-AS sees itself as long-term partner and with the many low-cost airlines among our customers, we have proven that we understand the philosophy of budget carriers.
Ronald Schaeuffele, CEO of Swiss-AS, states, "It is with great pleasure that Viva Aerobus has chosen AMOS. It is one of AMOS benefits that it can be implemented at most airlines without major customizations and to meet the needs of a fast growing airline – while of course always ensuring the airworthiness of the fleet."
About Viva Aerobus
Viva Aerobus is Mexico's low-cost airline. It started operations in 2006 and today operates the youngest Latin American fleet with 25 Airbus A320, including two A320neo on 91 routes and 37 different destinations. With a clear vision to give all people the opportunity to fly, Viva Aerobus has democratized the airline industry with the lowest rates in México and the lowest costs in Latin America.
About Swiss AviationSoftware and AMOS
AMOS is a comprehensive, fully-integrated MRO software solution being developed and distributed by Swiss AviationSoftware. Swiss-AS, a 100% subsidiary of Swiss International Air Lines, has more than 160 customers worldwide and belongs to the industry-leading MRO software providers. Our loyal customer base includes pure operators of all sizes, major low-cost, regional and flag carriers, large airline groups and MRO providers. In the Americas and in Asia, AMOS is distributed through a partnership with Lufthansa Systems. For more information, please contact us via marketing@swiss-as.com.
Francisco Morgado, Engineering & Maintenance Viva Aerobus Director, mentions: "This software allows us to strengthen our high standards of safety and reliability when flying one of the most modern fleets of the world. Besides, Viva Aerobus ultra-low-cost business model is based on a customer focus service, operational efficiency and a constant expansion in order to meet the requirements our growing clientele. And the technology provided by Swiss-AS helps us to achieve these goals".