27.11.2017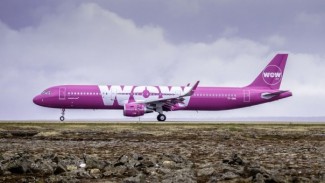 At a glance
AMOS implementation on open source PostgreSQL database
WOW air relying on AOS
Operating AMOS in Amazon Cloud
Another Low Fare Carrier signs for AMOS
Swiss-AS is proud to announce that Icelandic WOW air has selected AMOS as their preferred MRO software solution. As a cost-conscious LCC, the airline has opted for the open source and licence-free SQLPostgre database, in combination with Swiss-AS' AMOS Operation Services (AOS), which covers the application and database server administration.
Currently the project team is successfully carrying out tests to run AMOS in the Amazon Cloud. Apart from running IT applications cloud-based, it is also WOW air's policy to bundle all software in a centralised data warehouse – both being requirements that AMOS is able to meet.
Ronald Schaeuffele, CEO of Swiss-AS says: "This latest deal reflects once more that AMOS has a strong footprint among the LCCs. AMOS will surely play a significant role in WOW air's growth plans for the next years."
"WOW air uses top of the line IT solutions on the market with the aim of being one of the most technically advanced airlines in the world. AMOS supports that idea and fits very well into the IT suite WOW air is using on a daily basis," says Skúli Mogensen, founder and CEO of WOW air.       
Introduction of e-signature currently explored
With a very motivated project team and a highly committed management, the airline has set itself an ambitious goal for a swift implementation within only a couple of months. On top of that, AMOS supports WOW air's aim to have paperless maintenance in near future.
About WOW air
WOW air is a low fare airline based in Iceland that provides long-haul flights to almost 40 destinations across Europe, North America and Asia.
Skúli Mogensen, who is not only the founder but also CEO and sole owner of WOW air, established the airline in November 2011. The Low Fare Carrier operates 17 Airbus aircraft (A320, A321 and A330). The fleet is expected to increase to 24 aircraft by the end of 2018.
About Swiss AviationSoftware and AMOS
AMOS is a comprehensive, fully integrated MRO software solution being developed and distributed by Swiss AviationSoftware. Swiss-AS, a 100% subsidiary of Swiss International Air Lines, has more than 150 customers worldwide and belongs to the industry-leading MRO software providers. Our loyal customer base includes pure operators of all sizes, major low-cost, regional and flag carriers, large airline groups and MRO providers. In the Americas and in Asia, AMOS is distributed through a partnership with Lufthansa Systems. For more information, please contact us via marketing@swiss-as.com.