17.08.2023

At a glance
- Swiss International Air Lines and Edelweiss officially sign up for AMOSeTL, marking a significant milestone for the electronic Techlog solution.

- This partnership adds more than 100 aircraft to AMOSeTL's existing pool of contracted aircraft, showcasing its continued growth and industry adoption.

- Swiss International Air Lines' valuable contribution further solidifies AMOSeTL as the trusted choice for seamless aircraft operation and maintenance with unparalleled integration capabilities.
Swiss AviationSoftware is delighted to announce that Swiss International Air Lines (SWISS) and its sister company Edelweiss have officially signed up for AMOSeTL. This landmark partnership adds more than 100 aircraft to the current pool of aircraft operated by the ten funding customers, marking a significant milestone for AMOSeTL's continued growth and industry adoption.
SWISS's Valuable Contribution to AMOSeTL
Over the last months, SWISS has been a key contributor to the progress and development of AMOSeTL. Their active engagement and collaboration have played a crucial role in fine-tuning the solution to meet the unique needs of the aviation industry. The dedication and experience brought by SWISS have further solidified AMOSeTL's position as an industry-leading electronic techlog solution.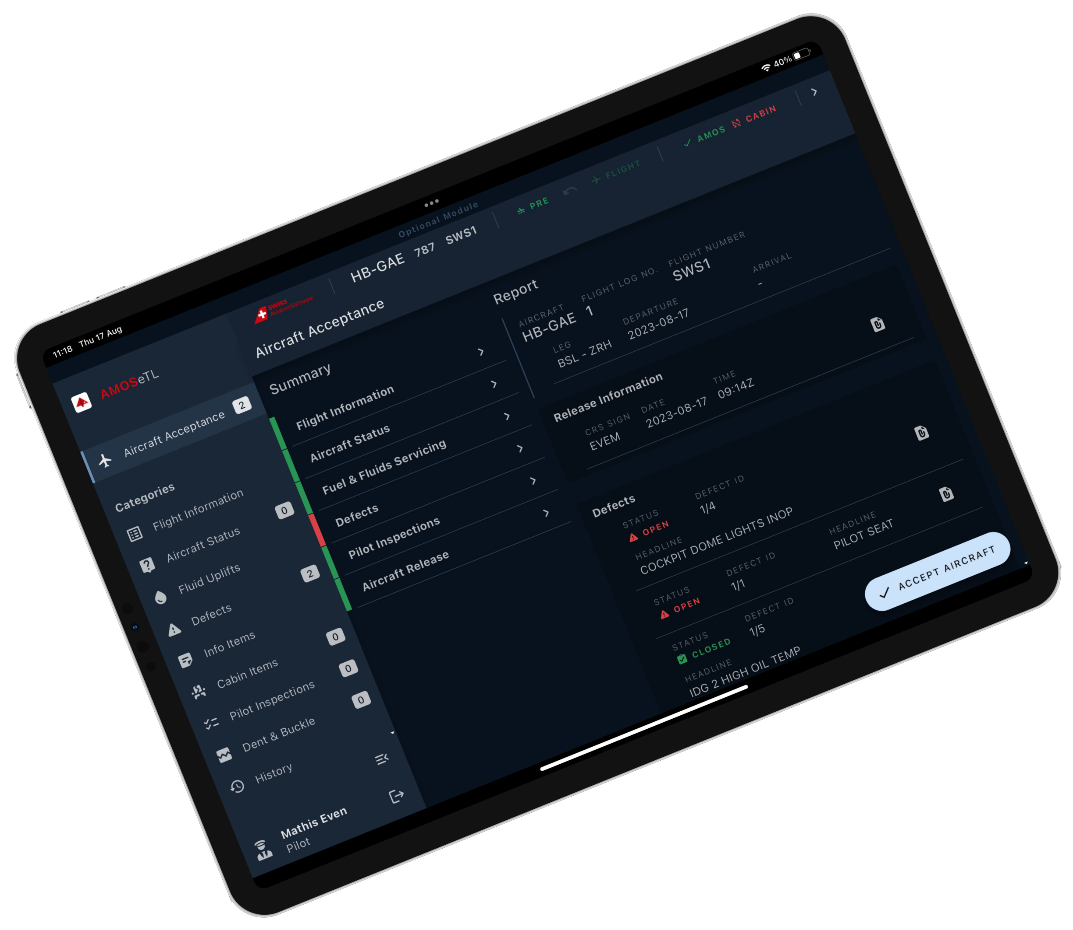 A Trusted Choice in Best-in-Class, Seamless, Intuitive eTL Solution Running on Latest Tech Stack
SWISS's decision to opt for AMOSeTL is a testament to their unwavering trust in Swiss AviationSoftware's capabilities and extensive experience in delivering reliable features, products, and integrations. They have witnessed first-hand the successful launch of other solutions that work seamlessly from day one, cementing their confidence in AMOSeTL's potential.
Optimizing Aircraft Operation and Maintenance with AMOSeTL
AMOSeTL empowers airlines with a seamless integration experience, streamlining technical logbook management and maintenance procedures. With its unparalleled pre-built integration capabilities, AMOSeTL ensures that data flows seamlessly between the whole product suite (AMOS, AMOSmobile and AMOSeTL), allowing airlines to operate with unprecedented efficiency and accuracy.
For further information on AMOSeTL's exciting go-live announcement, visit our previous Press Release: AMOSeTL Goes Live.
Contact our dedicated team at marketing@swiss-as.com to learn more about AMOSeTL and how it can digitise your Techlog management.