Our staff are one of the biggest assets of Swiss AviationSoftware. Meet the people who commit to AMOS and work hard every day to equip our customers with a state-of-the art solution.
Meet Vanessa, Software Engineer R&D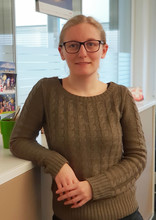 Vanessa works at Swiss-AS as Software Engineer in the R&D department.
Four years ago, she joined Swiss-AS straight from university, where she had completed here Master Degree in Computer Science.
At the annual recruiting event at the university of Nancy, Vanessa came across the company Swiss-AS. She started with a 6 months internship, followed by a permanent position.
In the rather newly established "publications" team, Vanessa and her colleagues design, develop and extend the program logic and user interfaces for the OEM document library, one of the fully integrated modules in AMOS. Besides pure programming, the developers also provide 3rd level support to the AMOS Community.
"The business side of the company was always of importance for me. I like the combination of aviation and IT. By the close contact with our customers, I know what impact my code lines have and it makes me proud to know that world famous airlines rely on our software", says Vanessa.
The application server backend is written in pure JAVA and Swiss-AS relies on the agile development method. Some development stories are performed in pair programming, allowing the team members to learn from each other. This year, AMOS will turn 30 and consists of 4,8 million lines of source code.
Meet Siggi, Senior Business Trainer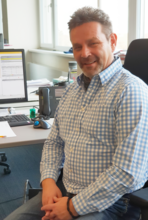 Siggi is a Senior Business Trainer at Swiss AviationSoftware. He holds a graduate degree in education and has been with Swiss-AS since 2005.
As a Senior Business Trainer, Siggi not only organises and manages AMOS training for our worldwide customer base, but also coaches other Software Trainers and Business Trainers to further develop their knowledge.
Our trainers perform classroom training, personalised on-the-job training, go-live support and virtual classroom training. Usually Swiss-AS trainers prepare for their sessions in the Basel office and then travel to the customer's site for one or two weeks to teach various topics.
Training spans over all AMOS user groups, i.e. end-users, key users, application managers and system administrators. As a trainer, you also need a good general business knowledge as you deal with employees from various specialist divisions, e.g. Maintenance, Finance, HR, etc.
For Siggi the appeal of his job is to travel and to teach people from different countries and cultures all around the world. No day is like the other, as you never know to which countries and customers the next months will take you, which type of trainings or subjects you will need to perform or which people you will meet.
 "You need a certain love of adventure, must be able to quickly adapt to new situations and to remain flexible, while always maintaining the Swiss quality standards that are expected from our company", explains Siggi.
Meet Emmanuel, Performance Engineer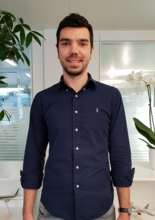 Emmanuel completed a master degree in computing science and business management. Attracted by the reputation of Swiss AviationSoftware as one of the industry market leaders and as an excellent employer, he joined Swiss-AS in 2011 as a Software Engineer. Then, in 2016 Emmanuel gave a new turn to his career and started working as a Performance Engineer.
In his current role and together with his two other colleagues, Emmanuel is responsible for application performance analysis and improvement. This requires a strong collaboration with customers and Swiss-AS software engineering teams as well as a wide knowledge across various technologies. Emmanuel acts as an expert in developments projects with the objective to secure the application performance while new functionalities are being implemented. Additionally, Emmanuel is responsible for the definition of benchmarking, monitoring and troubleshooting applications that help Swiss-AS to better support its customers. Furthermore, Emmanuel is used to visiting customers around the world to support them in the optimization of AMOS operation.
"I like the multi-cultural and friendly atmosphere that remains at Swiss-AS even while the company is growing fast. We have the opportunity to grow within the company or adjust our career according to our aspirations. And of course I am very proud of our success!" says Emmanuel.
This year, Swiss-AS will dedicate investment in manpower and organizational adjustments: the workforce will increase by around 30%, affecting most Swiss-AS departments.
Meet José, Senior Software Engineer
José is a Senior Software Engineer in the AMOS interface team. He is now 7 years with Swiss-AS and has become an interface expert. José's professional background is a Master in Information Technologies; afterwards he gained experience in various industries.
"After having worked in different companies, I think it's the human aspects that make Swiss-AS stand out. I like the international "ecosystem" of the company, the flat hierarchies with a CEO that lives the open-door-policy just like everyone else does. The company give us room to attend AMOS go-lives at the customers, which provides us with an insight into the usage of the software in live operation," says José.
The AMOS interface team within the R&D department takes care that our customers can easily integrate AMOS into their system landscape. Such integration is of major importance in view of avoidance of error sources, increase of productivity and to overcome departmental boundaries. "For interfaces, we use all transportation technologies and encryptions. Everything is possible from flat files over direct database access to XML based interfaces. Regarding AMOScentral, we rely on the OSGi framework. Our general development methodology is agile and in the planning poker we found the best approach for us for the biweekly iterations," explains José.
Meet Joao, Business Analyst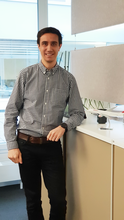 After obtaining his Master Degree in Aerospace Engineering, Joao worked in different sectors of the airline maintenance and aviation IT industry. Joao started working at Swiss-AS in 2014 as Business Consultant. Then, in 2017, he joined the Product Management team as Business Analyst.
Our Business Analysts provide the essential analysis of the business environment to ensure constant improvement of the business processes and functional integrity of AMOS. In this role, Joao works closely with our customers to collect their business requirements and transform them into comprehensive solutions in AMOS together with the R&D team. Additionally, Joao supports AMOS implementation projects at new customers or assists the Sales team in acquiring new customers.
For Joao, the attractiveness of his job is being continuously in contact with customers. "During my professional experience I gained a passion for product development. I took the opportunity to join the Product Management team to make best use of my competences in order to help aligning the functional scope of AMOS to customers' requirements and best industry practises," says Joao.