Our staff are one of the biggest assets of Swiss AviationSoftware. Meet the people who commit to AMOS and work hard every day to equip our customers with a state-of-the art solution.
Meet Vanessa, Software Engineer R&D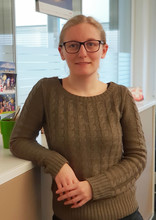 Vanessa works at Swiss-AS as Software Engineer in the R&D department.
Four years ago, she joined Swiss-AS straight from university, where she had completed here Master Degree in Computer Science.
At the annual recruiting event at the university of Nancy, Vanessa came across the company Swiss-AS. She started with a 6 months internship, followed by a permanent position.
In the rather newly established "publications" team, Vanessa and her colleagues design, develop and extend the program logic and user interfaces for the OEM document library, one of the fully integrated modules in AMOS. Besides pure programming, the developers also provide 3rd level support to the AMOS Community.
"The business side of the company was always of importance for me. I like the combination of aviation and IT. By the close contact with our customers, I know what impact my code lines have and it makes me proud to know that world famous airlines rely on our software", says Vanessa.
The application server backend is written in pure JAVA and Swiss-AS relies on the agile development method. Some development stories are performed in pair programming, allowing the team members to learn from each other. This year, AMOS will turn 30 and consists of 4,8 million lines of source code.
Since October 2019 Vanessa has been working as a Product Owner.
Meet Siggi, Senior Business Trainer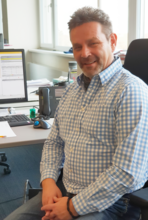 Siggi is a Senior Business Trainer at Swiss AviationSoftware. He holds a graduate degree in education and has been with Swiss-AS since 2005.
As a Senior Business Trainer, Siggi not only organises and manages AMOS training for our worldwide customer base, but also coaches other Software Trainers and Business Trainers to further develop their knowledge.
Our trainers perform classroom training, personalised on-the-job training, go-live support and virtual classroom training. Usually Swiss-AS trainers prepare for their sessions in the Basel office and then travel to the customer's site for one or two weeks to teach various topics.
Training spans over all AMOS user groups, i.e. end-users, key users, application managers and system administrators. As a trainer, you also need a good general business knowledge as you deal with employees from various specialist divisions, e.g. Maintenance, Finance, HR, etc.
For Siggi the appeal of his job is to travel and to teach people from different countries and cultures all around the world. No day is like the other, as you never know to which countries and customers the next months will take you, which type of trainings or subjects you will need to perform or which people you will meet.
 "You need a certain love of adventure, must be able to quickly adapt to new situations and to remain flexible, while always maintaining the Swiss quality standards that are expected from our company", explains Siggi.
Meet Emmanuel, Performance Engineer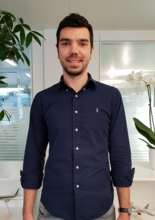 Emmanuel completed a master degree in computing science and business management. Attracted by the reputation of Swiss AviationSoftware as one of the industry market leaders and as an excellent employer, he joined Swiss-AS in 2011 as a Software Engineer. Then, in 2016 Emmanuel gave a new turn to his career and started working as a Performance Engineer.
In his current role and together with his two other colleagues, Emmanuel is responsible for application performance analysis and improvement. This requires a strong collaboration with customers and Swiss-AS software engineering teams as well as a wide knowledge across various technologies. Emmanuel acts as an expert in developments projects with the objective to secure the application performance while new functionalities are being implemented. Additionally, Emmanuel is responsible for the definition of benchmarking, monitoring and troubleshooting applications that help Swiss-AS to better support its customers. Furthermore, Emmanuel is used to visiting customers around the world to support them in the optimization of AMOS operation.
"I like the multi-cultural and friendly atmosphere that remains at Swiss-AS even while the company is growing fast. We have the opportunity to grow within the company or adjust our career according to our aspirations. And of course I am very proud of our success!" says Emmanuel.
This year, Swiss-AS will dedicate investment in manpower and organizational adjustments: the workforce will increase by around 30%, affecting most Swiss-AS departments.
Since March 2019 Emmanuel has been working as Team Leader Performance Engineering.
Meet José, Senior Software Engineer
José is a Senior Software Engineer in the AMOS interface team. He is now 7 years with Swiss-AS and has become an interface expert. José's professional background is a Master in Information Technologies; afterwards he gained experience in various industries.
"After having worked in different companies, I think it's the human aspects that make Swiss-AS stand out. I like the international "ecosystem" of the company, the flat hierarchies with a CEO that lives the open-door-policy just like everyone else does. The company give us room to attend AMOS go-lives at the customers, which provides us with an insight into the usage of the software in live operation," says José.
The AMOS interface team within the R&D department takes care that our customers can easily integrate AMOS into their system landscape. Such integration is of major importance in view of avoidance of error sources, increase of productivity and to overcome departmental boundaries. "For interfaces, we use all transportation technologies and encryptions. Everything is possible from flat files over direct database access to XML based interfaces. Regarding AMOScentral, we rely on the OSGi framework. Our general development methodology is agile and in the planning poker we found the best approach for us for the biweekly iterations," explains José.
Since February 2020 José has been working as Team Leader Business Integration.
Meet João, Team Leader Product Owner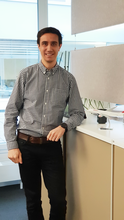 After obtaining his Master Degree in Aerospace Engineering, João worked in different sectors of the airline maintenance and aviation IT industry. João started working at Swiss-AS in 2014 as Business Consultant. Then, in 2017, he joined the Product Management team as Business Analyst.
Our Business Analysts provide the essential analysis of the business environment to ensure constant improvement of the business processes and functional integrity of AMOS. In this role, João works closely with our customers to collect their business requirements and transform them into comprehensive solutions in AMOS together with the R&D team. Additionally, João supports AMOS implementation projects at new customers or assists the Sales team in acquiring new customers.
For João, the attractiveness of his job is being continuously in contact with customers. "During my professional experience I gained a passion for product development. I took the opportunity to join the Product Management team to make best use of my competences in order to help aligning the functional scope of AMOS to customers' requirements and best industry practises," says João.
Since October 2019 João has been working as a Senior Product Owner.
In 2021, João received a promotion as a Team Leader. 
Meet Rémy, Test Engineer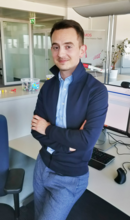 Rémy works as a Test Engineer for the AMOS logistics modules in the Quality Assurance department of Swiss AviationSoftware.
Being fascinated by aviation since his early childhood and having a private pilot license, Rémy was able to combine his professional experience as a software tester with his passion for the aviation industry here at Swiss-AS.
While the Swiss-AS Software Engineers develop new functions in AMOS, our Test Engineers analyse, check and assess requirement specifications and also define, implement and execute test cases and automated functional scenarios for these new developments. Several thousand automated tests running over night and dashboards allow us to get feedback quickly and make informed decisions.
"What I enjoy the most is exploratory testing. Here I can think outside the box and can use my experience and creativity to generate new tests and find out how AMOS handles easy and difficult requests. Working together closely with the Developers is a must as we can share both our technical and functional visions, so we can provide the best user experience possible to our customers."
Meet Isabel, Senior Relationship Manager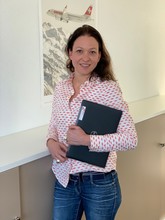 Isabel is a Senior Relationship Manager at Swiss-AS. She joined the company already 18 years ago, when AMOS was still a project within the IT department of Crossair with only 15 employees. Back then, Isabel worked as a trainer, coaching the first AMOS pioneer customers from around the globe. Isabel then joined the Consulting team to guide airlines implementing AMOS and to support existing customers in adopting new AMOS functionalities.
"Moving on from Training to Consulting, and now recently to CRM, was a logical career path for me and the central theme of all these positions is the close relationship with our customers," explains Isabel.
Now, in her new role in Customer Relationship Management (CRM), she is a primary contact for clients that have already implemented AMOS and she acts as a key link between the customers and Swiss-AS. A high level of customer satisfaction is of course the primary goal of our CRM department.
"The appeal of the aviation industry, work-life-balance and the fact that it was always fulfilling to work closely with the loyal AMOS Community is what has made me stay at Swiss-AS for so many years. Swiss-AS and the product AMOS have constantly advanced and improved over the years. We never stand still and there is always so much more to learn on this journey. In this role I am proud to represent the customer viewpoint within the Swiss-AS organisation."
Meet Syed, IT Consultant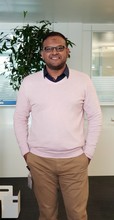 Syed has graduated in software engineering and started his professional career as a Software Developer and then as an IT Consultant for an ERP solution. In 2015, Syed joined Swiss-AS' team based in Singapore as an IT Consultant focusing on data integration consulting to support AMOS customers from the APAC region. His main task is to guide and consult new AMOS customers regarding their data migration work stream and to support them with mapping data between AMOS and their legacy system(s) as well as problem solving during data verification. Syed also provides expert advice on migrating data using ETL software and he also codes and verifies extraction scripts, if needed. From an operational point of view, Syed performs system monitoring and provides technical support on running AMOS installations.
"Although Swiss-AS is a software company, it has inherited the aviation business specialization from its mother company Swiss International Air Lines, which makes it different from a typical software development organization. The company respects its employees and cares for the transparent communication, work-life balance, self-improvement and personal growth. I believe in the vision of the company which motivates me to stay at Swiss-AS!"
Meet Kevork, team leader Business Consulting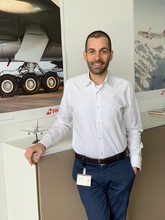 Kevork is the team leader of the Business Consulting team at Swiss-AS. He joined Swiss-AS in 2014, after having worked with AMOS from a customer's perspective during his whole career.
Kevork's passion has always been "flying" and "aviation", so working in the aviation industry after obtaining his Bachelor and Master of Science in Aerospace Engineering was an obvious choice.
The Swiss-AS Business Consultants are responsible for the overall implementation of AMOS at our new customers. They also make sure that all our existing customers keep a high-level of AMOS adoption to allow them to truly benefit from the system.
In both cases, our consultants guide customers towards an on budget, on time and on scope AMOS implementation, providing best practice business recommendations, which come from the expertise of the company and team members.
As team leader, Kevork ensures that all our team members can perform their services to customers; this means that they are trained and have a well-maintained source of documentation.
The Swiss-AS consultants are also responsible to provide best practice business knowledge to our development teams and provide feedback on development projects.
"I am really enjoying the team spirit at Swiss-AS - there is still a flavour of family here when interacting with my colleagues. In addition, I love the energy of this job! We are assigned to different projects, customers and countries. We are exposed to so much experience and information from our customers that people will hardly get bored here."
Meet Michelle, System Specialist
Michelle is a System Specialist at Swiss Aviation Software Ltd. She works in the Professional Services team where she takes care of the AMOS Operation Service (AOS) and other paid services.
Michelle joined Swiss-AS eight years ago, when she had finished here Bachelor Degree in Computer Science and moved from Great Britain to the Basel area.
"In our team we are responsible for providing our customers with reliable optimised AMOS environment. With AOS, customers can outsource all their duties arising from the AMOS application server and database administration to Swiss-AS, ensuring a smooth running and dependable system.
The services we can deliver to our customers, include Server Audits, provide recommendations on the specification of the host server, install AMOS and the underlying DBMS, upgrade AMOS, monitor the system including database backups, reconfigure and maintain the servers, restore test servers with productive data and much more" explains Michelle.
During the yearly customer survey, AOS regularly receives top grades from the AMOS Customer Community.
"Aviation was always fascinating for me and back then, when I had my job interview in an office overlooking the maintenance hangars, I was convinced," jokes Michelle and adds proudly "Our job comes with a big responsibility as customers fully rely on our service and expertise – a system that is down could easily cause an AOG. From company side we have the freedom to take decisions and are trusted in our actions and skills."
Meet Jeanne, Technical Writer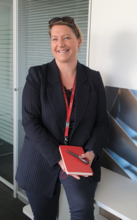 Jeanne holds a Jurist Degree with specialisation in Commercial and Air Law, a Master Degree in Private and Corporate Law and she excels in writing and communication by holding A-levels letters/languages in English, Spanish and Russian. Besides, Jeanne holds a private pilot licence and is currently finalising a Flight Instructor Training.
Previously working in the aviation industry for a Part-145 and Part-21 organisation based at the EuroAirport in Basel, it is obviously her passion for aviation and a taste for challenge that motivated Jeanne to join Swiss-AS almost 3 years ago.
Today, Jeanne is responsible for the writing and regular maintenance of the AMOS documentation for the Procurement/Material Planning, Publication Management, Stores, Q&A, MCC and Modification Control modules. Additionally, she and her colleagues ensure that the documentation always reflects the software's functional scope and follows a standard concept and structure. Occasionally, the Documentation Team is being asked to proofread documents from other Swiss-AS departments. More specifically, Jeanne is working on the implementation and update of the AMOSmobile Applications Map.
"The family spirit is here evident and I enjoy the multi-cultural atmosphere among the company. But much more than that I like the challenging daily business at Swiss-AS due to the combination of aviation and IT!" says Jeanne.
Meet Roman, ICT Administrator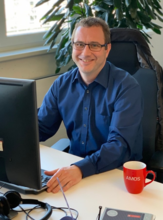 Roman works as an ICT Administrator at Swiss AviationSoftware. He studied Business Informatics and gained 15-years of work experience in the field of ICT before joining Swiss-AS in 2018.
Roman is responsible for the installation of new Linux servers and to make them as secure and reliable as possible. To create a new Linux server Swiss-AS has its complete server infrastructure virtualized and the maintenance of the VMware environment and creation of new VMs is part of his daily job. On these Linux servers, Swiss-AS's own AMOS application and the underlying databases are running.
The Swiss-AS ICT Administrators are furthermore responsible to maintain the servers for AMOS customers that are hosted in-house
Our ICT Administrators cooperate closely with other technical departments, such as the Professional Services team, who provides AMOS Operation Services and Hosting Services to our customers or the Quality Assurance team, which needs reliable test servers for the AMOS test automation.
"I like most when we successfully complete a challenging project. Just recently, we set up a customer with 8 different environments that is hosted in-house at the Swiss-AS premises and everything is now running smoothly," says Roman.
Meet Emanuel, AMOS Support Specialist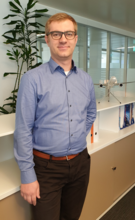 Emanuel is an AMOS Support Specialist at Swiss-AS. After he finished his studies in Computer Science, he worked for a Romanian airline where he encountered AMOS for the 1st time. When he joined Swiss-AS five years ago, he was already an AMOS expert, which paved his way into the position of AMOS Support Specialist.
"In our team, our main task is to assist the AMOS Community in getting the best usage of AMOS, to answer their questions and requests via the AMOS Support Tool. We are a customer-centric department and our main goal is of course to maintain a high customer satisfaction," states Emanuel.
The Support team, being mainly based in Basel, Switzerland, acts as 2nd level support for all incoming new support cases and is backed-up by the R&D department who performs the 3rd level support. The initial 1st level support is covered by the customer's internal AMOS Competence Centers.
Emanuel explains: "While the continuous further development of AMOS makes our job very interesting, this is at the same time also the challenge we face as we have to keep up with the constant changes of the software. My main motivation is to find solutions for complex support cases and of course to keep our customers happy."
Meet Lionel, Hosting Solutions Team Leader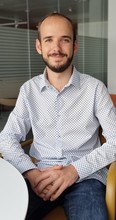 Lionel is currently leading the Hosting Solutions team at Swiss-AS in Basel.
Having obtained a Swiss apprenticeship diploma and Berufsmatura (vocational baccalaureate) as IT Technician, he went on to complete a Bachelor of Science in Business Information Technology, which he graduated from in January 2019.  Lionel joined the Swiss-AS Hosting Solutions team 2 months later as a System Specialist. Interested in the aviation industry and attracted by the Swiss-AS employee value proposition, he was proud to become part of the Swiss International Air Lines Group. 
The Hosting Solutions team is responsible for deploying and monitoring the AMOS and database infrastructure (environments, network, AMOS, backups) of customers in the Cloud. Additionally, Lionel and his colleagues automate the deployment of the infrastructure, of AMOS and its database, in order to standardise processes, to reduce the number of hours spent on repetitive actions and to avoid human error. The team also implements cloud solutions and uses new services, such as Google Cloud Load Balancing and database high availability cluster tools to satisfy larger AMOS customers.
In September 2020, Lionel took over the role of Team Leader within his team. "When the position of Team Leader was proposed to me, I was really happy to see the trust that my supervisor and peers had in me and I knew that I would get full support from them." His new role allows Lionel to improve his leadership and project management skills, to take part in the creation of hosting offers and to participate in our customer's on-boarding activities, along with the technical part of IT.
In addition to the opportunity to constantly develop his skills and technical knowledge, Lionel particularly enjoys the Swiss-AS atmosphere and the team spirit that is typical for our company. Lionel concludes "In the Hosting team, there has been a good atmosphere right from the start. We really help each other, share our knowledge and of course have coffee breaks and lunch together to have "social" moments".
Meet Laurence, Senior Marketing & Sales Coordinator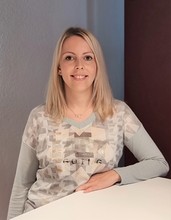 After obtaining her University Technical Degree in Marketing Techniques, Laurence worked in the airfreight industry and was responsible for business development and taking care of customer enquiries. Her role allowed her to develop a strong sense of customer service while gaining the aptitude to work very efficiently in a fast-changing and highly competitive industry.
In 2015, Laurence joined us as Marketing Coordinator. She recalls, "I decided to join Swiss-AS because I saw a great opportunity to continue working for a renowned airline group, in a very heterogeneous role that combines my preferred professional fields with additional marketing communication focused tasks."
In 2021, Laurence was promoted to Senior Marketing & Sales Coordinator. She currently assumes responsibilities such as coordinating all sales activities of the APAC and MEA region, organising the company's social media communications and content creation, as well as performing internal administrative tasks such as controlling customer accounts or ensuring smooth internal communication flows. 
The Marketing & Sales Department, reinforced by legal resources, is responsible for the representation, advertising and selling of AMOS. The team of seven experts covers a wide range of activities, from maintaining all existing communication channels to the creation of advertising content and material, from nurturing sales leads to elaborating offers and then to negotiating and signing contracts, from responding to existing customer requests to handling back-office tasks.
The team is composed of people of four different nationalities, with various professional backgrounds and skills, which always allows for learning from each other. While each team member has their own specialities and strengths, everybody is competent in each domain and thus able to support a colleague. "Due to the strong sense of collaboration combined with our friendly and trustful communication, I enjoy my job within this group of people. On top, I can identify well with the company and I love being able to market an excellent product with a worldwide recognition. Today, I can definitely state that I'm proud to be part of the Swiss-AS family!" concludes Laurence.
Meet Fabio, Business Administrator
Having obtained a Swiss commercial apprenticeship diploma and Berufsmatura (vocational baccalaureate) and after having gained several years of professional experience, Fabio then went on to complete a Bachelor of Science in Business Administration on a part-time basis while working at Swiss-AS as Business Administrator in the Finance & Administration team.
An interesting factoid, Fabio was the 200th employee of Swiss-AS when he joined us in May 2019!
"By combining my job with my studies, I am always able to keep up with state of the art developments and working methods. It offers me an ideal basis to immediately apply the knowledge I have acquired to every day working situations. I started my studies and my job with Swiss-AS at the same time, and have always received the full support of Swiss-AS."
Working in the Administration & Finance team for 70% of the time, Fabio is the first point of contact for Swiss-AS employees, as well as for external visitors. Additionally, he closely works with the Human Resources department on staff and time management, employee on-boarding processes, organisation of Swiss-AS Welcome Day's, application of Swiss working permits and the creation of other HR related documents.
Together with his colleagues from the Administration & Finance team, Fabio coordinates all activities related to Facility Management and Occupational Safety & Health (OSH). The team is currently also managing the relocation to our brand new offices and meeting spaces, which will be opened very soon. The Administration & Finance team is responsible for duty travel organisation, expense management, enterprise risk management and finance, just to mention a few additional task areas.
"The Admin & Finance team offers a wide range of tasks. Since I started working at Swiss-AS, I have gained a lot of experience and a variety of valuable insights. Every day I can learn something new and further grow in my role". In addition to the development opportunities, the agile and flexible working methods offered by Swiss-AS, Fabio enjoys being able to organise squash sessions with other colleagues, which allows networking and meeting new people.
To conclude, Fabio states:  "People care about me and my professional growth. I really feel the 'Swiss-AS family spirit' and the friendly and open-minded environment."  
Meet Yannick, Linux System Administrator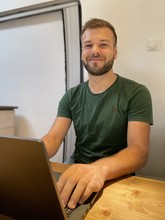 After having obtained a University Technical Diploma in Networks and Telecommunications, and a Bachelor in Administration and Security of Corporate Networks, Yannick worked in the technology and pharmaceutical industry as an infrastructure and systems specialist.
In November 2020, Yannick joined Swiss-AS as Linux System Administrator, "I saw the possibility to work in a Software Company as a chance to share knowledge and ideas about IT with people all over the company instead of the IT department only." In his daily work, Yannick manages and upgrades existing services such as the version control system, deploys new servers, troubleshoots and resolves failures when they occur, automates redundant tasks, and advises colleagues on Linux and related software.
On a daily basis, the IT team ensures that the internal infrastructure and core system services are running to enable the work of the Swiss-AS colleagues who continuously manage and improve AMOS. As Yannick says "the IT department is an important point of the company because it has to keep the existing systems and internal tools of the company available, secure and up-to-date." 
He also highlights the freedom and ease of choosing a particular process to accomplish a series of tasks: "if I would like to introduce a new technology, I need to explain and convince my managers, create a proof of concept, execute a series of test, get an approval, and then implement it."
To conclude, the overall atmosphere at Swiss-As is attractive to Yannick as the multicultural nature of his colleagues, the open-mindedness and the ease of contact allow him to ask for and give help, while also discussing new ideas and processes.